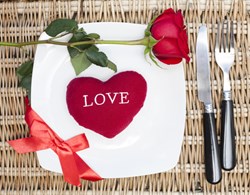 The key is to make Valentine's day personal and special.
Austin, TX (PRWEB) February 06, 2014
ShopRTO offers the following tips to making a special Valentine's Day at home. The key, their experts say, is to make Valentine's Day personal and special.
In order to make the day special is to put the right amount of effort and personal touch. Here are their tips to help make that happen.
Start the day off with breakfast in bed. Treat your loved one as royalty and make sure to use the good china, have a pretty flower and cloth napkins. Place a cute photo as a couple or family on the tray as the personal touch.
Create a fireside picnic. Most of the U.S. is cold so recreate a picnic by moving the coffee table or small table close to the fireplace. If the home does not have a fireplace use candles to create the ambience. Place a nice tablecloth over and serve as fine dining.
Utilize rose petals. Sprinkle rose petals on the table or use them to make pathways. Rose petals on top of a hot bath make a special gesture. Rose petals can spell words or outlines such as a heart for a special message.
Turn all TVs off and play music. Personalize a special playlist on the iPod that represent personal memories and connections. If married, be sure to include the wedding song.
Make conversation. The key to a special conversation is planning prior to Valentine's Day. Conversations cannot be scripted but can be planned thematically. Re-live fond memories or talk about future ones such as planning a romantic vacation.
Make sure the day is personal. Providing the Valentine Day icons are nice but must have a personal touch. Strategically place a photo album on the dinner seat. Create a photo stream on the computer or laptop and have special photos scrolling on the screen throughout the day.
According to their site, those are just a few tips to creating a wonderful Valentine's Day at home. But the key, ShopRTO emphasizes, is to make it personal and put the effort to demonstrate to the significant other how special they are in the relationship.
About ShopRTO.com:
ShopRTO provides affordable home decorating and lifestyle tips for Americans and when rent to own may be right for their home shopping choices.