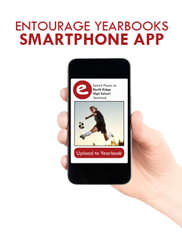 It's as easy as posting a photo on Facebook or Google+!
Princeton, NJ (PRWEB) February 06, 2014
While surveying yearbook advisors, Entourage Yearbooks found that gathering photos is believed to be the most difficult aspect of creating a yearbook. Many advisors depend on teachers, parents and students to take pictures at all of the events throughout the school year, and to submit them in a timely manner to the yearbook staff. Entourage Yearbooks has created a new Smartphone app to make submitting photos as easy as possible.
"We created the app with the entire school community in mind," said Entourage Yearbooks President, Elias Jo. "Getting everyone involved in taking and uploading photos will not only make the yearbook process easier for the yearbook advisor and staff, but will also result in a broader representation of the school year."
In the past, using photos from Smartphones was often discouraged as they often resulted in pixilated or poorly lit photographs. Over the last year, phone manufacturers have started including such technologically advanced cameras in phones that the print quality of pictures taken with most Smartphones and submitted at their full resolution no longer remains an issue.
The Entourage Yearbooks Smartphone App is simple to use and will soon be available for all school yearbooks working with Entourage. The app allows the user to upload pictures directly into pre-created folders on the school's yearbook website hosted by Entourage Yearbooks. Once uploaded, the yearbook advisor has access to all of the photos.
"It's as easy as posting a photo on Facebook or Google+," said Jo. "Having the app set up on a phone will cut out a few steps like searching for the school's name, or filling out login information to access the website. The simplicity of the process, and it's similarity to other popular interfaces should encourage more members of the school community to submit photos. More photos means easier and more awesome yearbooks!"
Entourage Yearbooks plans to announce the official launch date of the app within the coming months.
About Entourage Yearbooks:
Founded in 2006, Entourage Yearbooks provides yearbooks to over 3,000 schools across the US and in 18 countries around the world. Entourage's unique collaborative yearbook technologies and industry leading production times has made the company one of the fastest growing in the country, recently recognized by Inc. Magazine as the 17th fastest growing private education company in the US. For more information about Entourage Yearbooks, visit http://www.entourageyearbooks.com.