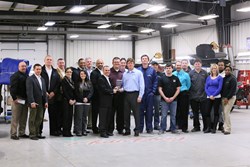 They pride themselves on providing excellent customer service and vouch every day to do better than they already do
Hurlock, Maryland (PRWEB) February 06, 2014
Preston Auto Body is a part of the Preston Automotive Group which is an organization of approximately 300 employees. They just received Nationwide's Showmanship of Excellence Award for Outstanding Customer Service. Preston Auto Body has a lot of community involvement which is one of the reasons it is set apart from other companies. The team's overall refer shop score is a 9.72 year to date in 2013. Preston Auto Body keeps the desire to give the customers a winning experience. The Auto Body has dedicated customer service personnel and uses advanced technology like Frog Watch. Frog Watch is a program that allows the customer to watch the progress of their vehicle as it goes through the repair process. Year to date their kept informed result is %97.82 with a 10.0 in Customer Service. A final numerical measure for them is the overall experience. Year to date they have achieved an outstanding 9.90 on surveys submitted from customers.
David Wilson is a Provident State Bank Board Member and has served as a board member since 1989. He has also served as the Chairman of the Eastern Shore's Walk America. Since 2009 he has raised over 230,000.00 for the March of Dimes. He was awarded the Prestigious Award of being the #1 Fund Raiser in the country in 2000. In 2002 he was the #1 fund raiser in the state of Maryland.
David is also a participant in the American Cancer Society's Relay for Life in Caroline County. For the past fifteen years, he has been involved in this event and Preston Automotive Group, as a team, has raised over $100,000.00 for the American Cancer Society.
He is also involved in many other organizations as well such as the Susan G. Komen Organization. There is a local group called Saving Second Base which raises money for Susan G. Komen. The Preston Automotive Group sponsors the Saving Second Base Events as well as helps them raise money for the Susan G. Komen Organization. Preston Automotive Group will also be hosting the 2014 Mid Shore Walk for the March of Dimes. They have also been involved with the Delmarva Shorebirds, Parks and Recs Programs, Paddlefest, Travel Baseball, Toys For Tots, Bears that Care, Operation White Tail, Kidney Foundation, Caroline County Humane Society and many more.
Preston Auto Body is honored to accept such a prestigious award. They pride themselves on providing excellent customer service and vouch every day to do better than they already do. They want to thank all their past and previous customers for their amazing support.
About Preston Automotive Group
Preston Automotive Group services the Delaware, Maryland, Virginia and Pennsylvania areas with Ford, Lincoln, Mazda, Hyundai, and Nissan brands. The auto group carries the largest selection of new and used cars and trucks. Additionally, the dealership services all makes and models, both imported and domestic cars with ASE certified and factory trained technicians. To further serve your automotive needs the Preston Automotive Group is also home to 3 auto body shops conveniently located around Delmarva in Preston, Cambridge, and the newest facility in Snow Hill, Maryland.