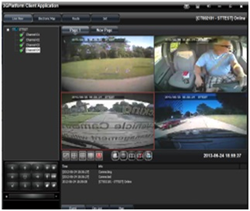 The main reason we developed UCIT is to empower business owners to promote safe driving within their fleet. The best way to correct a problem is to see it as it is happening. - Jeff Stoker, VP of Operations
Belleville, MI (PRWEB) March 05, 2014
Safety Track, servicing North America for over 12 years, is revolutionizing the fleet camera industry with the newest addition to its video tracking line-up: The UCIT Camera System running on T-Mobile's reliable nationwide network.
"For the past few years, we have been asked for a camera system to be the most up-to-date as possible from a wide variety of our customers, and over the past two years we have been hard at work developing our own system and software. With a new level of safety being provided, fleet owners will get live streaming video and a full featured GPS fleet solution, for only dollars more a month than the average GPS tracking system. This will in turn change how businesses do business," said Jeff Stoker, VP of Operations, Safety Track.
Safety Track has been a nation-wide GPS Fleet Tracking provider for over a decade, not only servicing to fleet tracking but also in-vehicle video tracking needs as well. In November 2013, Safety Track turned to T-Mobile for its fast, reliable nationwide network and strong customer satisfaction record to help it bring about a new face in the video tracking industry; the UCIT Live Streaming camera. This camera not only can let a fleet owner know where his vehicles are with 30 second updates, but also let him physically see, in near real time, what the driver is doing, as well as a 360 view of what's happening around that vehicle. All reports and alerts can then be stored and collected for future reference, such as improving driver behavior or even preventing potential lawsuits. "The main reason we developed UCIT is to empower business owners to promote safe driving within their fleet. The best way to correct a problem is to see it as it is happening," continues Stoker.
Jay, a Fleet Manager of a local Waterford, MI company found out that cameras are a necessity, but only too late. "One of my drivers got into an accident at an intersection with a passenger car. Thankfully no one was hurt, just scrapes along the other car, which they saw as an opportunity to try and get money from my business, and boy did they! Next thing I knew, I had a $75,000 insurance claim filed against my business and me without proof of whose fault the accident really was. My insurance took the easy way out and decided to just settle. At this point, I remembered the in-vehicle camera system I have let fall by the way side, which could have helped prove my driver was not at fault and saved my business money and time. I will not make that mistake again; from now on all my vehicles will be equipped with camera systems."
Fleet managers interested in improving their fleet as well as driver performance can visit http://www.safetytrack.net or http://www.safetytrackcam.com. For product pricing, as well as leasing options, please contact Nick Thacker at 888-286-9829. Safety Track is an international GPS provider, so no matter where you go, you'll always be covered.
About Safety Track LLC:
Safety Track, a woman and family owned business, was established in late 2002 in a local family basement. Throughout its growth, now reaching international status, Safety Track is committed to keeping that 'mom and pop' feel by making customers their top priority. Safety Track helps businesses and fleet owners alike maintain control over their vehicles; whether it's with in vehicle cameras, GPS or a combination of both. While striving to make running a fleet easier, Safety Track's top priority it to promote safe driving habits, not only for fleet drivers, but for drivers everywhere.