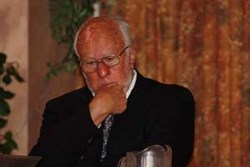 Our company and the world has lost a shining light. Bob set in motion a chain of events that will change us, and the global family of dreamers, forever.
Sterling, VA (PRWEB) February 06, 2014
The global community of dreams and dreaming has lost one of its most enthusiastic voices and tireless champions: Dr. Robert Van de Castle, Ph.D., died suddenly Wednesday, Jan. 29, in his Charlottesville, Virginia home. Dr. Van de Castle was 86.
Dr. Van de Castle was a psychologist and professor, as well as an acclaimed author whose books included "Our Dreaming Mind". And with Calvin Hall, "The Content Analysis of Dreams," Dr. Van de Castle was noted for his tireless work to bring more insight and clarity into the field of dream research, and to promote the important role that dreams can play in mental and physical health, and in all aspects of waking life.
Dr. Van de Castle believed dreams affect life in deeper ways than many researchers have imagined, and used his strong professional reputation to advance one of his core views: "Dreams," he once said, "can serve to dispel the lonely illusion of separateness we maintain during waking hours and reveal the many levels of interconnectedness which exist between us."
Dr. Van de Castle played a pivotal role in the development and introduction of DreamsCloud, which today is the largest website and mobile app for gathering, understanding and sharing dreams. Dr. Van de Castle helped DreamsCloud refine and improve its processes, and with his partner Bobbie Ann Pimm, ensured consistency and quality in the recruiting and training of the professional team of "dream workers" who provide personalized dream feedback to users of the site. With Dr. Van de Castle as one of its most important guides, DreamsCloud grew from inception to date into the world's largest database of dreams and dreamers, with registered users in 167 countries around the world.
"Bob played a pivotal and integral role in guiding us in our quest to better understand dreams and dreamers," said DreamsCloud co-founder and CEO, Matt N. Tabrizi. "Our company and the world have lost a shining light – but Bob set in motion a chain of events that will change us, and the global family of dreamers, forever."
Jean-Marc Emden, co-founder and chairman of DreamsCloud, added, "Robert was a rare and unique integrator of science, research, dreams and anthropology, whose unparalleled knowledge was rooted within the strictest standards of academia, and in his life and field experience."
Dr. Van de Castle was the former director of the Sleep and Dream Laboratory at the University of Virginia Medical Center (1967-85), was Professor Emeritus at the University of Virginia Health Sciences Center in Charlottesville, Va. and a former President of the Association for the Study of Dreams (1985-86.)
Dr. Van de Castle is survived by his longtime partner, Bobbie Ann Pimm, along with his two sons, Keith and Drake Van de Castle, and his daughter Parker Mary York.
For additional information about Dr. Van de Castle's work and his enormous impact on dreams, dream research and dream studies, please contact us at DreamsCloud.
About Dreams Cloud
Dreams Cloud, a subsidiary of Dreams Book Inc. (DBI), is a global resource which specializes in gathering, saving, and tabulating a statistical compilation of dreams. The website provides its members with tools to log their dreams, create dream journals, save them privately or share them publicly or anonymously, and receive personalized reflections on their dreams. The goal of Dreams Cloud is to better its members' lives and those of the public through its efforts. To learn more about Dreams Cloud, please visit http://www.dreamscloud.com.
About Reflections
DreamsCloud is of the belief that only the dreamers can truly know the meaning of their dream and that no other person can provide definitive dream interpretation. Upon the user's request, DreamsCloud Reflectors provide insightful feedback, gleaned from years of study in the dreams field, to help the user to better understand their dreams. DreamsCloud reflections are not a substitute for psychotherapy or other professional treatment and should not be used as such.
About Dreams Book Inc.
Dreams Book Inc. (DBI), a Herndon, VA, based company, is the creator and manager of various internet-based projects. DBI employs fractional management and in-house expertise and development as well as a multi-national outsourced team to create value for its stakeholders through synergetic and strategic project management. DBI specializes in projects that provide social benefits and have mass appeal.