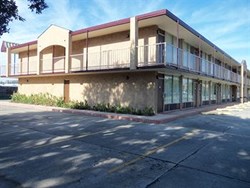 Our offers are created to make traveling and parking a breeze for all our customers.
Lafayette, LA (PRWEB) February 14, 2014
Greenbee Parking, a fast rising airport parking service, has just announced brand new parking deals for their customers in Lafayette. In their latest web upgrades the young firm has introduced several innovative options for both long and short term parking deals, all of which come with amazingly affordable LFT airport parking rates. This is great news for all travelers using the busy Lafayette (LFT) airport as they now have even more options to choose from when it comes to parking their vehicles whenever they are traveling. For long term users nothing can be better news than getting options to park at prices that will make no dent to their travel budgets like before. What's more, even if one is booking at the last minute there are absolutely no premium charges involved.
"Our offers are created to make traveling and parking a breeze for all our customers," said Christine Cooper – Marketing Coordinator, Greenbee Parking. "Our team is working round the clock to ensure that our deals perfectly match with the current needs of our customers and provide services at the most competitive LFT airport parking rates. A look at our web upgrades from time to time is the best way to bag the best deal."
Lafayette Regional Airport Parking Information
Located just southeast of Lafayette, the Lafayette Regional Airport is one of the major servicing airports of Louisiana. It sees over 400,000 passenger footfalls annually which means it keeps super busy round the year. It not only connects with all major domestic destinations but its proximity to the Lafayette business district and the U.S. Highway 90 adds to more traveler figures all the time. Lafayette is a major tourist destination as well as a business hub since it is home to oil and gas industries located in the Gulf along with other industries.
Increasing business in recent years has also seen a major impact on airport renovations which has simply expanded in scope. One area of focus is the airport parking which has seen a lot of activity from both public and private vendors like Greenbee Parking. The latter has received rave reviews for their service because of their innovative deals at affordable LFT airport parking rates. Their latest web upgrades show these rates further slashed offering even better options for LFT users.
The Greenbee Airport Parking Solution
Greenbeeparking.com is the connection between consumers and parking vacancies in close proximity to major airports and seaports. The parking spaces are very affordable because the company has negotiated discounted rates with major hotel chains for the parking spaces that are not currently occupied. Here's how it works.
Greenbee Parking puts the available inventory of parking spaces on their website to be reserved by business and leisure travelers looking for cheap airport parking. This alternative method for finding parking equates to significant savings for the traveler. You can learn more about their offers from (http://youtu.be/RWc3dqhugFA) or via the web at (http://www.greenbeeparking.com).
About Greenbee Parking
Greenbee Parking is the nation's most innovative long term parking company, with a new way of making long term parking affordable. The company is rapidly adding new airports to its network.