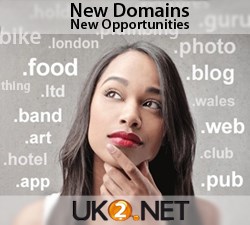 This new move gives businesses the chance to secure a domain that's relevant to them.
London, UK (PRWEB UK) 6 February 2014
The Internet is not the same today as it was yesterday. This morning, UK2.net put a new range of domains names on sale. Known as top-level domains, they will change the face of the online world forever.
From today, domain names will no longer only end in the usual .coms, .nets, or .co.uks. Instead, they'll finish in seven new ways and more to come. Websites can now end in .bike, .clothing, .venture, .holdings, .plumbing, .singles, and the creative .guru.
"There has been so much talk about these new domains during the last six months; the day is finally here!" said Sara Cunha-Rego, the director of hosting and domain products at UK2. "They're going to be very popular. This is just the start, too. 700 more domain names are going to be launched in the coming months."
The new generic top-level domains (gTLD) have been created by ICANN, the body that coordinates domain names, to make more space on the Internet. The virtual world was getting crowded and this was the solution.
"This is an historic milestone for ICANN's new gTLD program and the Internet as a whole," said Christine Willett, the vice president of gTLD operations at ICANN. "The year ahead will be defined by new opportunities in a vastly expanding online landscape."
The creation of a more roomy online space is just one of the benefits expected to come from the creation of these new addresses.
"This is a huge opportunity," said Cunha-Rego. "Businesses should now be able to secure a domain that says exactly what they are about. Managing to secure a domain name using the current .coms and .co.uks is becoming more and more difficult. This new move gives businesses the chance to secure a domain that's relevant to them."
UK2.net's customers can get their hands on their own new domain in minutes. By entering the domain they want in the domain name search box on UK2.net's website, they can snap up the domain name and use it immediately.
ABOUT UK2.NET
UK2.net has been a major player in the Web hosting industry since 1998 and is part of UK2 Group. They provide a variety of services including domain names, email hosting, shared web hosting, cloud hosting, reseller, ecommerce solutions, VPS and dedicated servers to individuals and businesses. UK2.net is also one of the biggest and fastest growing Web hosting companies in the UK.
UK2.net is the founding member of the UK2 Group, a group of interconnected global and UK Web hosting companies that operate independently whilst sharing knowledge, expertise and resources. Having this wide range of companies under one group allows them to achieve a greater global reach while providing world-class hosting services to their customers. To learn more about UK2.net visit http://www.uk2.net.