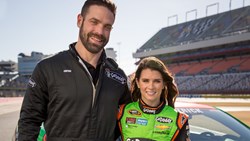 This was a once in a lifetime experience. How many people have ridden on a Nascar track with Danica Patrick with 20lbs of BBQ on their lap.
Windsor, CT (PRWEB) February 06, 2014
Kansas City native, world renowned competitive eater, and owner of Windsor, Connecticut's Bear's Smokehouse, Jamie "The Bear" McDonald, has been chosen as one of five finalists for GoDaddy's The Big Leap contest. McDonald and fellow contestants compete to win six month's salary to pursue their small business dream full time.
McDonald beat out thousands of contestants and raced around the famed Charlotte Motor Speedway at speeds of over 125 mph to pitch his business idea to GoDaddy spokeswoman— famed NASCAR driver Danica Patrick, who declared that she not only loved his KC style BBQ, but 'loved his pitch'. The Big Leap was announced via commercial during the first break of the 2014 Super Bowl.
See Jamie's Pitch to Danica Patrick here: http://www.youtube.com/watch?v=9_WHBYhDFGo
McDonald, who grew up in Kansas City, worked in barbecue restaurants across the metro and has taken real Kansas City BBQ to the delight of the East Coast. People are not only lined up around the block to sample his mouth watering fare, but Bear's Smokehouse and McDonald are focused and committed to giving back to the community. McDonald offers a second chance to many by offering employment and the chance to get back on their feet. By winning The Big Leap, McDonald will be able to focus on his restaurant and the community full time and plans to open two more locations in 2014.
In order to promote the contest McDonald will be the first to tackle the 8.5 lb BBQ Sandwich at Bear's Smokehouse at 6:45pm on 2/6/2014.
Facebook users may vote by heading to http://www.godaddy.com/jamie. Voting ends March, 2nd 2014.
About Jamie "THE BEAR" McDonald:
Born and raised in "The BBQ capital of the world" Kansas City, Missouri, Jamie McDonald spent his high school years working for one of the best BBQ restaurants in the city. Upon graduating from school, Jamie joined the Navy and in his travels across the U.S. and abroad, was always on the lookout for great bar-b-que. Much to his dismay, nothing lived up to the BBQ he grew up eating back home. This forced Jamie to rely on his skills he picked up while working in high school. From wood and meat selection to his homemade sauces and rubs, Jamie has near perfected his craft.
Jamie is also an independent competitive eater who has won over 50 eating competitions across the country. He was most recently named by All Pro Eating the "#1 Independent Competitive Eater 2012" and "Competitive Eating Rookie of the Year 2012". Jamie's competitive eating have been featured in ESPN, The Huffington Post and The New York Daily News. Jamie is also a natural bodybuilder and he documents his diet and workout regimen on The Huffington Post as well as his own website. He currently resides in Windsor with his wife, Cheryl, who co-owns Bear's BBQ and two children.
For more on Jamie:
YouTube: http://www.youtube.com/eatbeareat
Website: http://www.bearsbbq.com
Facebook: http://www.facebook.com/bearsbbq