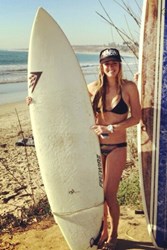 Santa Monica, CA (PRWEB) February 06, 2014
Spinlister, the world leader in peer-to-peer bicycle, ski, and snowboarding rentals, announced today that they have hired Kenzie Kerr as their Student Brand Manager at Loyola Marymount University. Kerr, an extreme sports enthusiast, possesses the excitement for the sharing economy that Spinlister has been looking for.
As a Junior on LMU's campus, Kenzie is heavily involved in the Surf Club, the Ski/Snowboard Club, and her sorority Delta Gamma. "I was really excited to hear about Spinlister because I have a lot of gear that I don't use 24/7 so renting it out to others is a cool way to make money and meet other people with the same interests!" Kenzie, an avid traveler, also says she plans on using Spinlister to rent locals' gear when she visits new cities. As Spinlister's Student Brand Manager, Kenzie will be building brand awareness on LMU's campus by encouraging peer to peer sharing. "In my mind Spinlister is the perfect solution for an active college student and I want to share and spread the stoke around LMU's campus," says Kerr.
Spinlister is still looking for qualified and passionate college students to join their Student Brand Manager team. Interested students should send their resume and cover letter to Director of Community Relations, Scott Gates, at scott(at)spinlister(dot)com. For more information, please visit the job description page.
About Spinlister:
Launched on April 1st 2012, Spinlister is an online marketplace that allows users to rent and list bicycles, skis, and snowboards in over 100 countries worldwide. With built-in security features and a database of user reviews, Spinlister has won the trust of communities of cyclists, skiers, and snowboarders all over the world.