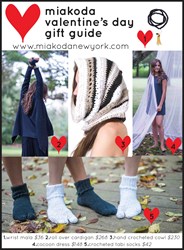 New York, NY (PRWEB) February 11, 2014
Leading sustainable fashion line, Miakoda LLC, is celebrating their one year anniversary with a special discount code for customers and complimentary shipping through February 22nd, 2014.
"I am especially grateful for all the support, not only of our company, Miakoda, but our mission to collaborate to make this world a more compassionate place," says Miakoda founder and designer, Julia Ahrens. "These choices come from the heart and that's what we're celebrating!"
Miakoda curated a special gift guide to make shopping easier. To sweeten the experience, Miakoda is offering 20 percent off using code, LOVE, at checkout and complimentary shipping.
Miakoda's collections are designed to be comfortably chic. All garments stretch or have a relaxed fit and are fabricated out of organic knit materials to ensure the wearers comfort both physically and mentally (no animals, people, or places are harmed in production).
About Miakoda LLC:
Miakoda LLC is an eco-friendly and sustainable fashion brand located in New York. With a commitment to providing clothing that is sustainable and cruelty-free, Miakoda pieces are proudly made in the USA using organic materials. For more information, visit http://www.miakodanewyork.com.