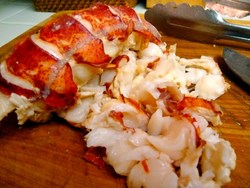 (PRWEB) February 06, 2014
Imagine three classic favorites – beer, salsa and Maine lobster– and the epic culinary experience they would create when combined. Chef Mac Arrington did just that, and on February 3, GetMaineLobster.com announced its latest recipe: Lobster Tail Salsa.
The ingredients for this recipe include 4 Maine Lobster Tails, thawed and shell split; 2 cans/bottles beer; 2 tomatoes, small dice; 1 red bell pepper, seeded, small diced; 1 red onion, small dice; 1 shallot, minced; 1 clove garlic, minced; 1 jalapeno, minced; zest from 1 lemon; juice from 1 lemon; 6 scallions, sliced; 2 Tbsp cilantro, chopped; 1 tsp. sherry vinegar; 1 Tbsp olive oil; ½ Tbsp sugar; ¼ tsp cayenne pepper; salt & pepper to taste; and 2 bags corn tortilla chips.
Once the ingredients are ready, first prepare the lobster. Open the beer and pour them into a large pot for steaming. Cover the pot and turn it on high heat until the beer begins to boil. Arrange the tails in a steaming tray and place into the top and cover. Lower the heat to a simmer and allow the lobster to steam for 8 to 10 minutes. Cool the lobster tails; remove the meat; and dice it up. Place the meat in the fridge until it's almost meal time.
Combine all ingredients, minus the lobster and beer in a large bowl and mix until fully incorporated. Refrigerate covered for at least 2 hours prior to serving to maximize flavor. Right before it is time for the big game, fold in the lobster meat and top with a few sliced scallions. Serve with the chips and enjoy!
For more delicious and creative offerings, visit Get Maine Lobster's wide range of seafood, access other healthy lobster recipes or view current specials by visiting GetMaineLobster.com or calling (866) 562-.4817.
About GetMaineLobster.com
GetMaineLobster.com, a division of Black Point Seafood and Black Point Gourmet, hand-selects the finest Maine lobster, seafood and beef products for convenient distribution throughout the United States. Their passion is to make fresh, quality seafood readily available to customers across the country, which is why they buy from only the most trusted, well-established suppliers to ensure that they receive the finest products available.
GetMaineLobster.com was selected out of the more than four million small American businesses served by Chase bank to represent its new Platinum Business Checking product for its 2013 national advertising campaign.