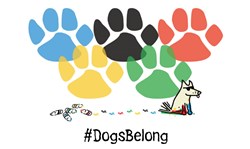 Painted Paws for Sochi Dogs. Because Dogs Belong.
Needham, MA (PRWEB) February 07, 2014
The top dogs at Teddy the Dog Apparel, in Needham, MA, just released a new "Painted Paws" graphic (available on t-shirts and hoodies) to help benefit those trying to rescue Sochi's stray dog population. Says Teddy the Dog owner, Ted Pidcock, "We initially created the graphic just for fun. But when we heard of the issues surrounding the treatment of stray dogs in Sochi, we realized we couldn't just stand by idly. Our fans and customers love dogs. We love dogs."
The company decided to switch into fundraising mode once the story of the Sochi dogs broke. Now, profits from the sales of the Painted Paws items will go towards efforts to rescue these animals and raise awareness. Says Pidcock, "While we need to do this quickly; we also need to do this correctly. We are currently reaching out to various organizations, including the International Humane Society, and rescue efforts on the ground in Russia, to determine how best to channel the funds we raise."
For more information or to purchase the Painted Paws apparel, visit the company's website at http://www.teddythedog.com. The company has said it will keep its followers up-to-date through social media, such as Facebook, Twitter and its own DogBlog (blog.teddythedog.com).
To contact Teddy the Dog Apparel, email teddy(at)teddythedog(dot)com. You can also follow the Painted Paws for Sochi Dogs campaign at #DogsBelong.