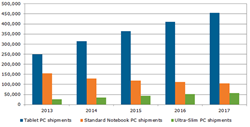 Momentum for the tablet PC market is in full swing, as they have become the dominant mobile PC form factor.
Santa Clara, CA (PRWEB) February 06, 2014
Falling prices and advances in displays will lead to higher shipment levels of tablet PCs which will increasingly replace notebook PC shipments for 2014 and beyond. According to the NPD DisplaySearch Quarterly Mobile PC Shipment and Forecast Report, in 2014 global tablet PC shipments will rise to 315 million units, comprising more than 65 percent of the market; by 2017 tablet PC shipments will climb to 455 million units, encompassing nearly 75 percent of the mobile PC market.
Worldwide tablet PC average selling prices (ASPs) are expected to fall from $311 in 2014 to $296 in 2017, which will help increase adoption -- particularly in emerging regions where first-time PC buyer penetration rates are highest. Consumers will also have more options to choose from, as new technologies and features hit the market, including AMOLED and other display technologies, a greater variety of screen sizes, and higher resolutions.
"Momentum for the tablet PC market is in full swing as they have become the dominant mobile PC form factor," said Richard Shim, senior analyst at NPD DisplaySearch. "Competition is expected to increase as traditional notebook PC brands, including Lenovo, HP, and Dell update their product portfolios to emphasize tablet PCs. Increased competition will mean more attention on, and development of, various segments of the market, which will ultimately lead to greater choice and devices that better fit the needs of consumers."
Following weaker than expected shipment demand from the back-to-school and holiday seasons in 2013, notebook PC brands have reduced their shipment estimates for 2014, with an expected year-over-year (Y/Y) decline of nearly 7 percent. Additionally, with penetration of less than 10 percent for 2013, touch panel integration in notebook PCs has not increased demand as much as previously expected. The result is weaker than expected demand for standard notebook PCs and ultra-slim PCs. Standard notebook PC shipments will decline from 155 million units in 2013 to 105 million units in 2017. Ultra-slim PC shipments will rise from 26 million units in 2013 to 57 million units is 2017.
The weak shipment forecast is forcing brands to re-evaluate their pricing strategies and a rise in selling prices is expected. Features, such as new designs and higher resolution displays, will be used to justify higher selling prices. Standard notebook PC prices are expected to rise from $667 in 2013 to $693 in 2014 while ultra-slim PC prices are expected to rise from $885 to $936 in 2014.
In the tablet PC market, oxide, LTPS, AMOLED and other emerging screen technologies -- as well as 8.4 inch, 10.5 inch and other new sizes -- are expected to give brands increased flexibility to offer more differentiated products to consumers. At the same time, strong market trends continue to drive shipment growth. The shift towards smaller sizes continues to enable lower price points in emerging regions (i.e., Eastern Europe, China, Asia Pacific, Latin America, and Middle East and Africa), which will account for more than 60 percent of worldwide shipments in 2014. Tablet PCs with screens smaller than nine inches will comprise approximately two thirds of overall shipments in 2014. Seven-inch screens will garner the most tablet PC market share -- exceeding 30 percent through 2017.
Emerging regions will account for an increasing share of worldwide mobile PC shipments, growing from 57 percent, or 274 million units in 2014, to 62 percent, or 385 million units, by 2017. Growth will be led by tablet PCs, which will account for 70 percent of mobile PC shipments into emerging regions in 2014. Nearly half of tablet PC shipments into emerging regions in 2014 will be devices retailing for less than $200.
The NPD DisplaySearch Quarterly Mobile PC Shipment and Forecast Report delivers insight and data into worldwide and regional mobile PC shipments for both global and regional brands. For more information about the report, please contact Charles Camaroto at 1.888.436.7673 or 1.516.625.2452, e-mail contact(at)displaysearch(dot)com or contact your regional NPD DisplaySearch office in China, Japan, Korea or Taiwan for more information.
About NPD DisplaySearch
NPD DisplaySearch, part of The NPD Group, provides global market research and consulting specializing in the display supply chain, including trend information, forecasts and analyses developed by a global team of experienced analysts with extensive industry knowledge. NPD DisplaySearch supply chain expertise complements sell-through information from The NPD Group, thereby providing a true end-to-end view of the display supply chain from materials and components to shipments of electronic devices with displays to sales of major consumer and commercial channels. For more information, visit us at http://www.displaysearch.com. Read our blog at http://www.displaysearchblog.com and follow us on Twitter at @DisplaySearch.
About The NPD Group, Inc.
The NPD Group provides global information and advisory services to drive better business decisions. By combining unique data assets with unmatched industry expertise, we help our clients track their markets, understand consumers, and drive profitable growth. Sectors covered include automotive, beauty, consumer electronics, entertainment, fashion, food/foodservice, home, luxury, mobile, office supplies, sports, technology, toys, and video games. For more information, visit http://www.npd.com and npdgroupblog.com. Follow us on Twitter at @npdtech and @npdgroup.