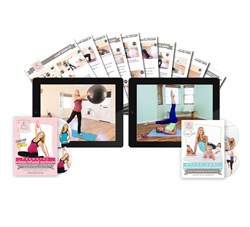 Newport Beach, CA (PRWEB) February 06, 2014
Erica Ziel, Master Pilates Instructor, Core Specialist, and creator of the Knocked-Up Fitness DVD series and online destination, introduces another way to help expecting and new moms get their changing bodies into shape. The new Prenatal and After Baby Digital Programs provide on-demand access to workouts, anytime and anywhere, without a fitness studio or DVD player. These digital workouts are based on Ziel's signature workout fusion of pilates, body sculpting, plyometrics, and cardio intervals. Designed to help moms prepare their bodies for a baby during pregnancy and also help snap them back into shape afterwards, the programs have won over moms across the U.S., Canada, and Australia.
The Prenatal Knocked-Up Fitness Digital Program grants expecting moms exclusive, unlimited access to Ziel's wildly popular prenatal Pilates-Infused Workouts. The program, which includes seven mix-and-match workouts featured in her Prenatal 2 DVD series, is designed to help safely strengthen the core and prepare the body for delivery. With more than 60 exercises to choose from plus 4 bonus printable workouts, the menu offers trimester-specific guided workouts and tips. There is also a bonus segment video on Erica's "Push Prep" technique, designed to help pregnant moms engage their "deep core" transverse abdominals and pelvic floor muscles, which can positively influence the birthing process and help mom get body back faster after baby.
For moms who have just had a baby or even if it's been many years since, Ziel has also created the After Baby Fitness Program. Created to help moms feel amazing and look great, the lineup includes 10 mix-and-match workouts that focus on toning, sculpting, and conditioning the entire body with an emphasis on strengthening the pelvic floor and deep core muscles – a problem area for many moms. The workouts are all designed from a functional standpoint to help moms strengthen the core, hips, and back, which can ease the discomforts, aches, and pains associated with pregnancy.
Because no two bodies are alike, the new digital programs allow moms to modify the workouts to meet individual needs and motivation levels. Both programs include printable booklets for when the computer, tablet, or smart phone is turned off. "When you're a mom, it's hard to pay attention to your own needs – our new digital series makes it convenient for any mom to find the time for fitness."
The new Prenatal and After Baby Knocked-Up Fitness Digital Workouts are available at http://www.knocked-upfitness.com for $39 each or $70 for both.
ABOUT ERICA ZIEL: Erica Ziel, founder of Core Athletica Inc., is one of Southern California's most sought-after experts for fitness-infused Pilates and personal training. She holds a Bachelor's Degree in Kinesiology & Health from Iowa State University, and is a Certified Personal Trainer, Pilates Instructor and Nutritionist. A mother of three, Erica is also the creator of Knocked-Up Fitness®, an online destination developed for women who want to stay fit and healthy during all stages of pregnancy, as well as a fitness DVD collection.