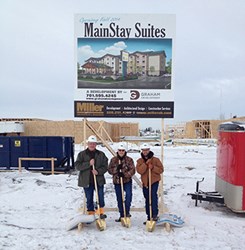 Tioga, ND (PRWEB) February 07, 2014
Miller Architects & Builders has recently broke ground on MainStay Suites in Tioga, North Dakota.
Owner, Ernie Graham of Graham Development, Minot, North Dakota, has been a long time commercial developer in the state of California. In 2011 Mr. Graham started researching the Bakken area and in 2012 he made a few trips to Western North Dakota. With those findings he and his wife Janice sold their California home and moved to North Dakota, eventually settling in Minot where they have relocated their business. His son Corbin has also moved to Minot to help in the business. The Tioga hotel project is his first North Dakota development. Mr. Graham has an identical MainStay Suites hotel scheduled to start construction early spring in Stanley, North Dakota.
The MainStay Suites hotel is an 89 unit, extended stay hotel. The hotel features a spacious great room with three distinctive areas that include a breakfast bar, fireplace lounge area, and guest bar. The hotel also features a weight room, meeting room, guest pantry, outdoor covered gazebo for cooking and relaxing, and electrical plug-ins for autos and trucks. Rooms feature full kitchens, granite countertops, large bathrooms, office/work desk, comfortable chair, and connectivity. Dora Hospitality will manage the hotel.
Miller Architects & Builders is extremely proud to have the opportunity to team with Graham Development on this project. This makes the fifth hotel project we have provided construction services for in the Bakken area.
Established in 1874, Miller Architects & Builders is one of the Midwest's premier design/build commercial construction firms specializing in commercial construction. Miller Architects & Builders constructs all its facilities using your local labor where possible. Miller Architects & Builders (http://www.millerab.com) is headquartered in St. Cloud, Minnesota.
###