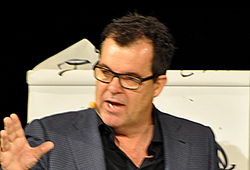 But on the flip side, the demand from offshore buyers will continue to push prices up, particularly in London. And that will put home ownership, particularly for first home buyers and the self-employed, even further out of reach than it is now
(PRWEB) February 06, 2014
Increased Chinese investment in the UK real estate market is contributing to the country's reported property boom says property investment strategist, Rick Otton. With the brakes being put on the local real estate market, the Chinese nouveau riche are continuing to look towards offshore property.
"In December Jones Lang LaSalle released research that showed that Chinese investment in London alone had increased by a whopping 1500 percent since 2010" said Mr Otton. "This is 1 billion pounds worth of London real estate that is owned by the Chinese investors."
This foreign investment has both positives and negatives for the local market believes Mr Otton.
"On the positive side, it demonstrates that the UK property market is sound and worth investing in - the Chinese do their research! So local investors should take heart from this" he said.
"But on the flip side, the demand from offshore buyers will continue to push prices up, particularly in London" he said. "And that will put home ownership, particularly for first home buyers and the self-employed, even further out of reach than it is now."
The increase in Chinese investment in UK real estate represents over 50 percent of Chinese investment in the whole of Europe, which at the end of Q3 2013, was 1.9 billion pounds. However, Germany and the US still rank as the largest offshore investors in the UK.
Brits Need To Think Smarter
For decades Mr Otton has been teaching investors in the UK, USA and Australia, how to grow solid property portfolios, regardless of the economic climate. It is these strategies that he believes everyday Britons need to embrace if they are to ride the property wave without the constraints that are applied by traditional lenders.
"It is inevitable that with increased competition for available real estate, prices will continue to rise. The market has been stimulated by government initiatives as well as foreign investment, but even so, there are opportunities for even those who don't have a bank deposit to enter into the housing market - and I teach the strategies that allow people to seize those opportunities."
To give an insight into just what those strategies and opportunities are, Mr Otton is offering, as a complimentary download, his Power Property Profits Pack via his RickOtton.co.uk website. It is available now, for a limited time only.
About Rick Otton
Rick Otton is a property investment professional who, over the last 23 years, has introduced innovative real estate strategies to the UK, Australian and the United States. His creative 'low-risk, high-reward' approach to buying and selling houses is exemplified in his own business, We Buy Houses.
This year marks the 10 year anniversary of Mr Otton introducing his strategies to the UK, and the 5 year anniversary of his innovative 'Buy A House For A Pound' process – one that attempted to be emulated by others. His constant process of strategy refinement, and adapting to the ever-changing real estate market, continues to place him at the forefront of property investment education.
In 2012 Rick Otton published his Australian book 'How To Buy A House For A Dollar' which was named in the list of Top 10 Most Popular Finance Titles for 2013. A UK version is on the drawing board for publication in 2014.
Mr Otton freely shares insights into his non-bank-loan strategies that have allowed everyday UK men and women to beat the rental cycle and have their own homes. He coaches others on how to build profitable businesses by facilitating transactions that focus on the needs of potential buyers and motivated sellers.
Access his free downloadable Power Property Profits Pack at RickOtton.co.uk, and the details of early bird pricing for his next UK 3-day real estate training conference in March 2014. Phone enquiries in the UK are welcome on 0207 000 1027.