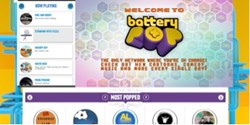 New York, NY (PRWEB) February 07, 2014
Burgeoning kid's cross-platform network, batteryPOP, has ramped up its offerings of premium children's video content with the addition of six premium series to be hosted on the network. The new offering include the MondoTV animated series "ANTS," the Video Elephant live action series "This Is Daniel Cook," the Band Content Distribution animated series, available in both English and Portuguese, "The Amazing Professor Ambrosius, the a.father films' live action series "TAG! Silver Spoon Blues," the popular Turkish animated series "Limon and Oli" from Mart Licensing Agency and the Spanish variety series "Menuda Noche" from Grupo ZZJ.
These new additions will add to batteryPOP's existing kid-friendly programming for children ages six to eleven, ranging from cartoons and live-action shows to exclusive interviews and events covering top trending celebrities and topics for kids. The youth network continues to emphasize the inclusion of international content, creating an entertaining, yet educational experience for its viewers.
About "ANTS":
"ANTS" is an animated cartoon series, based on the artwork of Fabio Bettori, dealing with the lives of ants outside the conventional "ant farm."
Consisting of short, funny episodes--filled with gags and graphic "cues"--this series is lively and light in content, yet full of references to our daily lives... because the ANTS... are in fact US!
About "This is Daniel Cook":
Inquisitive, intelligent and adventurous--"This is Daniel Cook" is more than just a live-action children's series, it's an educational adventure where kids can join six-year-old host Daniel Cook on all of his exciting adventures, whether he is learning with Olympic gold medalists and zookeepers, or creating with award-winning musicians. Kids will learn, create and explore with Daniel--a kid himself, who shares their interests, language and curiosity.
About "The Amazing Professor Ambrosius":
Professor Ambrosius is the friendly and clumsy host for this show that mixes educational entertainment with comedy. He lives with his two assistants, Leslie and Floribela, in a magic place where everything can happen. Learning has never been so fun!
About "Limon and Oli":
"Limon and Oli" is Turkey's most popular and lovable licensed cartoon series created by famous Turkish cartoonist Salih Memecan in 1991. Salih Memecan's 22 year-old "Limon and Oli" is a typical family everyone associates with. A little sense of humor spices up the mundane daily life of "Limon and Oli," just like every other family. When times get tough, bring the humor and laugh it away. "Limon and Oli" is all about that!
About "TAG! Silver Spoon Blues":
"TAG!" is a scripted drama series portraying the life of primary school students in an American international school outside the U.S.
New episodes will be released on batteryPOP on a weekly basis.
About "Menuda Noche":
What would happen if small children took control of the television for several hours? Who would they interview, what would they discuss, who would sing?
Menuda Noche (Children's Night Show) is a children's show of the caliber of adults that is a parody of television perpetuated by the most shameless and uninhibited in each household. Children's Night Show waits for us! Featuring candid interviews, face-to-face encounters with a host of exceptionally impressive kids, performances by remarkable youth talent and zany slapstick humor, the show is certain to be favorite for parents and kids alike.
About batteryPOP
batteryPOP is a brand new cross platform network for kids, providing original, aggregated and branded content for 6-11 and family audiences, delivered across mobile and Internet platforms.
Found by two Nickelodeon veterans, batteryPOP features short form web series from a variety of creators, presented in a safe, engaging setting, and puts kids in charge by allowing their votes and feedback to reach the show creators directly. More than anything, batteryPOP is dedicated to harnessing the power of kids for an experience like they've never had before!