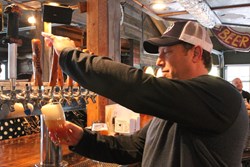 "Never before has a brewpub in Texas been allowed to distribute craft beer outside its own four walls through a third party distributor – the new laws and the collaboration with distributors have made this a reality"
Austin, Texas (PRWEB) February 06, 2014
Uncle Billy's Brewery & Smokehouse will become the first Texas brewpub in state history to have its beer distributed through a third-party to local bars and restaurants across Central Texas. Changes in state laws have loosened limitations for craft breweries throughout Texas – a milestone for the state, for the industry, and for the people who love delicious craft beer.
On Friday, February 7th, a keg of the brewpub's Green Room IPA will be delivered to local bar Little Woodrow's by a distributor and served on tap to patrons in a public tapping and celebration.
"Never before has a brewpub in Texas been allowed to distribute craft beer outside its own four walls through a third party distributor – the new laws and the collaboration with distributors have made this a reality," said Uncle Billy's co-owner Rick Engel. "It's an amazing time to be a brewpub in Texas, and Uncle Billy's is proud to take the first step in this exciting new era."
Engel said, "Now, the great craft beer Uncle Billy's has always been known for can be enjoyed not just at our pub, but also at other restaurants and bars they may choose to frequent."
"This event celebrates the future and vision of an industry expected to contribute $5.6 billion to the state economy annually within the next decade," Senator Kevin Eltife said. "We congratulate Uncle Billy's on this day of recognition."
At one time, the future was limited not by the imagination and passion of the brewing industry, but by the laws that limited their ability to grow and compete with out-of-state breweries.
In June 2013, the Texas Legislature passed reforms for the craft beer industry, allowing small packaging breweries to serve their beers on site in taprooms and brewpubs like Uncle Billy's to have their beers distributed and sold off site.
Until these laws were enacted, that was illegal in Texas, while wineries and out-of-state brewpubs were allowed to distribute freely to retailers, creating an advantage for wineries and non-Texas breweries.
But when distributor Austin-based Keg 1 delivers that first keg of Green Room IPA from Uncle Billy's to Little Woodrow's, that barrier will be shattered.
"We are thrilled to be a part of this historic moment and collaborating with Uncle Billy's," said Travis Erwin, president and COO, Keg 1 distributors. "We are turning on the faucet for more distribution of craft beer in Texas."
"It's officially a new day for brewpubs in Texas, and it's been a long time coming," said Charles Vallhonrat, executive director, Texas Craft Brewers Guild. "Brewpubs like Uncle Billy's deserve the opportunity to grow and thrive as craft beer popularity sky rockets across the state."
The new laws were the result of months of hard work by the Texas Craft Brewers Guild, Brewery stakeholders, the Beer Alliance of Texas, courageous state lawmakers and countless consumers, enthusiasts and activists.
The reform was a nod to the exploding popularity of craft breweries in Texas, whose numbers have nearly tripled just in the last five years. There are now nearly 100 licensed breweries in Texas who contribute hundreds of millions to the economy on an annual basis, up from 37 licensees in 2008.
In less than six months since the enactment of those laws, craft breweries in Texas already have plans in place to invest over $30 million in new production and facilities.
Watch Uncle Billy's 'Hops to Taps video here.
About Uncle Billy's Smokehouse & Brewery
The pioneering spirit runs deep at Uncle Billy's. In 1993, Engel opened the Houston's first brewpub since Prohibition, and became an activist for the right to brew freely and without hefty limitations. In 2006, he co-founded Uncle Billy's, named after William "Uncle Billy" Barton - one of the earliest settlers and affectionately known as one of the founding fathers of Austin.
Uncle Billy's has won multiple medals from the Great American Beer Festival over the past six years as well as a very prestigious bronze in The World Beer Cup.
###