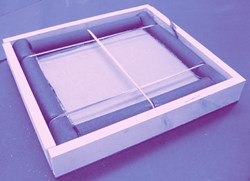 San Jose, California (PRWEB) February 06, 2014
England Van Lines, a leading premium moving service located in Los Angeles, California, is thrilled to announce they are incorporating new state of the art crating for the transportation and storage of fine art. These new versatile and double lined crates are specially designed for fine art, and are guaranteed to keep their contents dry, cushioned, and untainted by contaminants. All fine art, including paintings, sculptures, photographs, and antiques will come out of these special fine art crates in the exact same condition they went in.
Those who have attempted moving fine art before know that the crating, transportation, and storage of the art can be a stressful and time consuming hassle. Having your fine art professionally moved can cut down on some of the hassle and stress, but only so far as the company hired to move the art can be trusted. Many moving companies claim they will take proper care of your delicate items, but lack the proper training, experience, and equipment to do so. Your normal, run of the mill, average Joes moving company will often just put any fine art into whatever flimsy box will fit it. Or worse, throw an old padded blanket over it, put it on top of the pile, and call it "protected." This puts the fine item at increased risk of being damaged, particularly in cross state moving scenarios.
The experts at England Van Lines, however, are specially trained in the art of fine art crating and transport. Not only are all items – art or not – properly crated, they are also efficiently packed to maximize the structural integrity of the crates. Everything is packed tightly to minimize dangerous sliding of the crates and keep external pressures low.
Company spokesperson William Alexander had this to say about the subject, "Fine art has always been one of, if not the trickiest type of item to box and transport. Art is often fragile, precious, and awkwardly shaped…and adding to the difficulty is the fact that even the tiniest scratch, the smallest amount of damage, can be both irreparable and completely catastrophic to the art's value and aesthetics." He then went on to say, "We have found fine art crating and transportation to be an area customers are deeply concerned about when they entrust their belongings to us. And after much research into the subject we decided to upgrade out handling of these most important items accordingly."
When asked how she felt about the new crating methods, once customer and fine art owner said, "It really helps put my mind at ease, knowing that I can just show them my art and they will come back with the right type of box, in the right size, to package it the right way…I watched them do it and it all seemed to be done how they advertised it, they estimate moving costs really well too."
Just as with the actual production of fine art, the transportation and fine art crating is best done by those with a large pool of experience and subject knowledge to draw on. Of course, the added bonus of using the very best equipment should be a significant plus to customers and their art alike.
To find out more information about how England Van Lines can help you with all your fine art moving needs visit England Van Lines online.