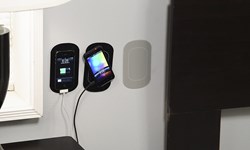 Chino, CA (PRWEB) February 11, 2014
UM! Brands has been garnering attention with their versatile and reusable housewares since its launch in 2011. With products ranging from hooks to mirrors and picture frames, all have a special adhesive backing, called EverSTIK, that ensures the products' reusability and purpose to strongly adhere on many smooth surfaces.
Here are the top ten best uses for a wide array of UM! Brands' products:
1. The Hook UM! Essential - Rocket is perfect for narrow and small spaces, given its small and sleek shape. This little hook is a perfect option for hanging up those loofahs in the shower!
2. The Stick UM! is great for clearing up bedside tables. Stick it on the wall, then stick your phone on this double-sided pad to save some space.
3. The Note UM! Calendar is a great option for those that want something eco-friendly. Instead of buying paper calendars over and over, simply wipe then re-write after each month!
4. Are you a runner with a growing amount of medals from all of your races? The Hook UM! Extended comes with four hooks; put a medal, or two, in each hook and hang them proudly!
5. If you have a stainless steel fridge, you'll know that magnets just simply won't work - but EverSTIK will! The Clip UM! Stationary is a favorite option. Use it to clip your grocery lists, recipes, or pictures to your refrigerator.
6. Storing your kitchen knives in the same drawer as your other cooking utensils? This is a bad idea: a cut waiting to happen! The Stick UM! Magnet Extended is perfect for the kitchen and great for knives, which stick to the magnetic strip easily.
7. Add some color to your walls with your photos and the Frame UM!. Simply slide a picture in, then stick it to the wall. The Frame UM! also makes it easy to change photos!
8. The Clip UM! Industrial can help de-clutter broom closets. Instead of the pile of brooms and dustpans laying in the corner, hang them up and out of the way to clear some space.
9. The Mirror UM! is particularly useful for small gym lockers, making it easier to prep and go!
10. The Note UM!, available in small, medium, or large, is a whiteboard without all the clunk and clatter. Simply stick on the wall and it is ready to use! Making a quick memo has never been easier.
To view these products and to find out more about UM! Brands and EverSTIK, visit their website at http://www.um-brands.com.