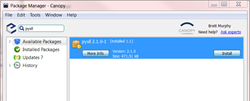 Excel add-ins written using PyXLL are fast to develop, offer high performance, and are easier to maintain and deploy than other methods of developing Excel add-ins.
Austin, Texas (PRWEB) February 06, 2014
Enthought, Inc., a leading provider of scientific and analytic software powered by Python, today announced its partnership with PyXLL Ltd. to become the exclusive worldwide distributor of PyXLL, a powerful tool used to create add-ins for Microsoft Excel in the Python programming language. This new partnership gives PyXLL customers the support of Enthought's distinguished development team and offers Enthought Canopy customers an integrated solution for deploying to Excel. PyXLL is ideal for those who need to provide Python-based models, algorithms and analyses to end-users in Excel.
"I developed PyXLL to make it possible to write add-ins for Excel in Python," said Tony Roberts, founder and developer of PyXLL. "Using simple decorators, Python code can be instantly exposed to Excel as worksheet functions, menu items or macros. Excel add-ins written using PyXLL are fast to develop, offer high performance and are easier to maintain and deploy than other methods of developing Excel add-ins."
Organizations that are reliant on Excel are using PyXLL and Canopy, Enthought's Python distribution and application deployment platform for analytic and scientific computing, to increase productivity and reduce risk by storing code in version control instead of embedded in Excel files. Using PyXLL with Canopy's package management solution, users can deploy and manage centralized algorithmic code for Excel-based applications. With this new partnership, customers now have a single platform and support vendor for their Python and PyXLL environments. Investment banks, hedge funds, energy companies and engineering organizations are just some of the industries already leveraging the benefits of combining Canopy with PyXLL.
"We're very excited to bring the power of PyXLL to our Enthought Canopy customers and to other organizations using Python for analytic and scientific computing," said Dr. Eric Jones, chief executive officer for Enthought. "Being able to quickly and easily develop, test and deploy new models, algorithms and other Python functions for end-users in Excel bridges a critical gap between those writing models and algorithms and the end-users that utilize them, creating tremendous value for those who have deployed Canopy and PyXLL."
Learn more about Canopy and PyXLL by visiting http://www.enthought.com/products/pyxll.
About Enthought
Founded in 2001, Enthought, Inc. is a dynamic, growing company with a mission to significantly improve the way scientific and analytic computing is accomplished by providing powerful tools and expert services for quantitative data analysis and visualization. Enthought has an exceptional customer base comprised of some of the most respected names in the financial services, oil and gas, consumer products, and technology industries. Headquartered in Austin, Texas, Enthought has offices in New York City, Cambridge (United Kingdom), and Mumbai (India). For more information visit http://www.enthought.com.
Enthought and Canopy are registered trademarks of Enthought, Inc. Other product or brand names may be trademarks or registered trademarks of their respective holders.