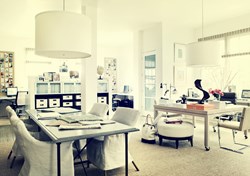 Los Angeles, California (PRWEB) February 07, 2014
Commercial Movers, the first "Truly Green" commercial moving services provider in the United States is pleased to announce that they have completed the bio-diesel upgrades on the engines of all of their class 4-8 haulers to make them as environmentally friendly as possible. The company has also finished the modification and installation of low-resistance tires on their entire fleet—the outfitting of which enables their fleet to get more miles per gallon—thus further reducing the company's carbon footprint.
"At Commercial Movers, we pride ourselves not just on being forward-thinking about the commercial moving services we provide, from a quality and customer service as well as value standpoint, but also from an environmentally conscious standpoint," stated company spokesperson, Tom Pinkus. "Our entire fleet of class 4-8 haulers are already equipped with high-tech bio-diesel engines, designed to drastically reduce our carbon footprint, enabling us to truly be one of the nation's first 'green' commercial moving services."
According to a recent report that was published by Moving Authority, 84 percent of all greenhouse gas emissions in the United States are caused by human created emissions, primarily those that come from coal burning power plants, industrial plants, trucks and cars. The report specifically stated that the transportation industry accounts for 31 percent of all of these emissions. The Moving Authority report said that bio-diesel gases, when used in place of conventional diesel gases, reduce the amount of harmful diesel soot that is emitted from exhaust and can reduce emissions overall by as much as 50 percent or greater.
"The goal with our 'green' fleet, while centered upon the superlative of reducing emissions, also enables us to offer a greater value to our customers," Pinkus said. "This is because there are numerous fuel savings and tax incentives we also enjoy for doing our part to be eco-friendly – savings that we happily pass along to our valued customers time and time again, who can know they are 'going green' with their move when they move with us."
About
Commercial Movers provide local, state, national and international office moving services for businesses and homes of all sizes. Their bio-diesel powered and modernized fleet of class 4-8 haulers are also equipped with eco-friendly low-resistance tires to further reduce environmental impact, enabling them to offer the nation's first "truly green" commercial moving services.
You can learn more about their commercial moving services by visiting Commercial Movers online.
Press Contact:
Tom Pinkus
Commercial Movers
(424) 238-2070