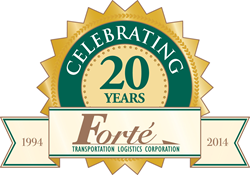 "The concept of Forté was unique 20 years ago and remains so today", Forté President, Bruce Buchanan
Tacoma, WA (PRWEB) February 24, 2014
January 18, 1994, Bruce Buchanan and his partner, Kim Stanbery, started Forté Transportation Logistics Corporation in the basement of Kim's Federal Way home. Their work experiences at Roadway Express convinced them that there was a need in the marketplace for a company focused on bridging the communication gap between carriers and shippers. They recognized the myriad of problems created by the carriers' inability to dedicate the time and resources necessary to really get to know their customers. Forté was created to solve that problem and 20 years later that's still the motto at Forté: "Solve the Problem."
On April 6, 1994, the Teamsters Union strike propelled Forté into the spotlight as companies from all over the country, plagued with service failures across modal lines, heard that a northwest company was able to get products picked up and delivered in spite of the strike and at a reasonable price. Some of those companies formed the initial Forté customer base that still exists today.
"The concept of Forté was unique 20 years ago and remains so today," explains Forté President Bruce Buchanan. "When you hire Forté, you're not just getting a competitive transportation program – you're getting an organization that works as part of your own. On a daily basis and at every level, we have people with decades of transportation experience proactively assisting our customers with their transportation needs."
Buchanan continued, "Having an export shipment arrive two days after the ship sails is not the time to realize that price was secondary to ensuring the product met the sailing. Carriers and brokers focus on price and leave the rest to the customer to decide. Forté takes it to the next level. Our consultants take the time to understand intimately the needs of each customer and know that each customer's needs are going to be different and will differ at different levels within the organization. Forté recognizes this and brings the expertise to ensure that all requirements are met in each instance."
Today Forté's expertise has expanded from an LTL-centric market to include intermodal, truckload, airfreight, import/export, heavy haul, warehousing, and by investing heavily in technology and computer systems, auditing and contract compliance.
Customers offered high praise for the company on the occasion of Forté's 20th anniversary. "I realize now the many benefits of Forté's involvement in monitoring and optimizing Sutphen's logistics and the proactive approach to cost containment," said Mike Ulicne, Materials Manager, Sutphen Corporation.
Richard Bonarrigo, Logistics Manager, Sports Imports added, "For Sports Imports, the Forté team has consistently demonstrated that they are committed to our success. They have provided the best overall value in transportation services as well as unrivaled customer service."
About Forté
Founded in 1994, Forté Transportation Logistics Corporation has been providing global transportation logistics solutions for over 20 years. Now headquartered in Tacoma, our nationwide offices and global partnerships help companies large and small move products of all kinds from point A to point B in the most cost effective, efficient, and when necessary, time sensitive manner. For more information, visit fortetlc.com or call 800.501.9922.
Contact:
Melissa Buchanan, Sales and Marketing
Melissa(at)fortetlc(dot)com
301 54th Ave E, Ste 200
Fife, WA 98424
253.926.5454
###