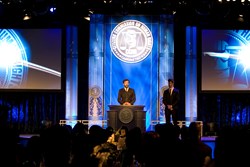 Los Angeles, CA (PRWEB) February 10, 2014
On February 1st, Citizens Commission on Human Rights (CCHR) celebrated its 45th Anniversary and Human Rights Awards Banquet in Los Angeles, California, honoring courageous individuals who refused to sit idly by in the face of mental health abuses.
The awards ceremony highlighted each of the award winners' efforts, embodying CCHR's mission, to bring about an atmosphere of safety and security in the field of mental health by eradicating its abuses and brutality.
Coinciding with CCHR's recently released documentary, The Hidden Enemy, which reveals in great detail psychiatry's infiltration of the nation's military forces, CCHR honored several individuals who became advocates for those abused by military psychiatry.
The award winners included:

Retired Chief Petty Officer and Navy SEAL twice awarded the Bronze Star Medal with Valor, Mikal Vega, who survived missions in Iraq, Haiti, Bosnia, Kosovo, Zaire and Albania. Vega was indestructible but, "After 22 years of kicking death's ass, it was a cocktail of psychiatric pills they prescribed me," he said, "that nearly took me out." In accepting CCHR's Human Rights award, Vega explained it was his sheer willpower that allowed him to wean himself off the drugs and launch a non-profit organization, Vital Warrior, to help veterans without the use of stigmatizing psychiatric labels or mind-altering drugs.
Another warrior, though not military related but battling on the home front, is award recipient Allison Folmar, an attorney who has defended those who have faced the greatest injustice: children forcibly taken from their parents for refusing to give their child a dangerous, potentially life-threatening psychiatric drug under the fraudulent charge of "medical neglect." Folmar takes on the tough cases, has a winning record, and works many cases pro-bono. Due to Folmar's work, Michigan Child Protective Services changed its rules and will no longer investigate parents for "complaints that allege parents are failing or refusing to provide their children with psychotropic medications...."[1] In accepting her award, Folmar said,"To every family who has suffered the loss of a child and witnessed the mental and physical suffering and devastation caused by harmful drugs forced upon their child. Let's turn this turmoil into triumph by continuing to change laws in this county. We must work at this until not a single child is ever forcibly drugged again."
Award recipient, retired Army Colonel and military psychologist, Dr. Bart Billings, was honored for his decades-long devotion to military personnel harmed by psychiatry's drugging regimen. Col. Billings was among the first professionals to disclose the link between psychotropic drugs and military suicides. Col. Billings founded an annual International Military and Civilian Combat Stress Conference to provide a venue to promote effective alternative approaches to psychiatric drugs and damaging treatments.
Pat Mena accepted her Human Rights award for her efforts to expose the lethal dangers associated with the excessive drugging of our Armed Forces and veterans. Mena's son, Tony, survived two tours of duty in Afghanistan only to become a victim of psychiatry's multi-drug "treatments." In an 18-month period, Tony Mena was prescribed 35 drugs, including 17 mind-altering psychiatric drugs. The autopsy report revealed nine different medications in his system at the time of his sudden death.[2] Determined to make other service personnel aware of psychiatric drug dangers, Pat Mena wrote a book about Tony's struggles, You'll Be Fine, Darling: Struggling with PTSD after the Trauma of War. Pat told the audience that, "In writing this book about my son's struggles, I have become Tony's voice."
In addition to the above award winners, Dr. Fred Baughman, Jr., was presented the Dr. Thomas Szasz Lifetime Achievement Award for his significant work in combating coercive psychiatry—specifically, his tireless efforts to expose the "non-disease" Attention Deficit Hyperactivity Disorder (ADHD). Dr. Baughman has spent his life challenging other medical specialists to condemn psychiatry's labeling and drugging, writing, "The Hippocratic Oath is being eclipsed by hypocrisy. When the other, non-psychiatric faculty members of the nations' medical schools say nothing of this fraud and poisoning, they are accomplices."
All of the Human Rights award winners can take great pride that they, like Dr. Baughman, stood tall in the face of outrageous mental health abuses.
Read the full article here.
About Citizens Commission on Human Rights: CCHR is a non-profit, non-political, non-religious mental health watchdog. Its mission is to eradicate abuses committed under the guise of mental health and enact patient and consumer protections. CCHR has helped to enact more than 150 laws protecting individuals from abusive or coercive mental health practices.
[1] State of Michigan Department of Human Services, "Mandated Reporter's Guide," DHS Pub 112 (Rev. 2-13).
[2] James Dao, Benedict Carey and Dan Frosch, "For Some Troops, Powerful Drug Cocktails Have Deadly Results," The New York Times, Feb. 12, 2011.