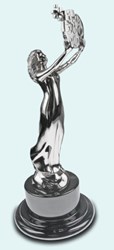 It is really a representation of the great partnerships we have with our clients...
Burlington, MA (PRWEB) February 05, 2014
The White Rhino Agency led all New England agencies in the 2014 AVA awards, the standard for excellence in digital communication design and execution. Administered and judged by the Association of Marketing and Communication Professionals (AMCP), the AVA awards recognize excellence in categories ranging from different elements of web-based production, to all aspects of video and digital marketing.
White Rhino stood out for its work with the following awards (Category/Site/Award Level):
PLATINUM/GOLD AWARDS
1. Business to Business Website - SAP Mobile Consumer Trends Website, PLATINUM
2. Video for the Web - Axceler "Viewpoint: Practice Safe Collaboration", PLATINUM
3. Creativity (Web Motion) Graphics Design - SAP Casino Data Challenge, PLATINUM
4. Web Element/Other - SAP The Future of Business - Content Creation Site, GOLD
HONORABLE MENTIONS
5. White Rhino's own "Marketing BS Meter"
6. DTZ Facilities Landing Page
Dan Greenwald, Founder and Creative Director of White Rhino, shared this in regard to the AVA Award's recognition of their work "While we are always pleased to see some of our best work get recognition like this, it really is a representation of the great partnerships we have with our clients who understand both what it takes to succeed online and how to leverage and share the resources they have to help us deliver our best work together."
With over twenty years as one of New England's thought leaders in Marketing Design work, White Rhino continues to be recognized for the strategic insights, creative ideas and ultimate execution of both online and offline programs that bring results for their clients nationally.
See a sampling of White Rhino's best work, or download their latest eBook on Gamification today.
About White Rhino
White Rhino has been a provider of Strategic Marketing Services in the New England area since 1993. Based in Burlington, Massachusetts, White Rhino has established itself as a local and national leader in Healthcare and Technology and is noted for their award-winning design capabilities and expertise in gamification. They can be reached at 781-270-4545.