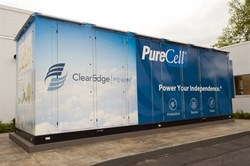 Sunnyvale, Calif. (PRWEB) February 06, 2014
ClearEdge Power today released a white paper contrasting the benefits of diesel generators versus the company's own PureCell® fuel cell systems as a source of critical power generation for business. The paper, titled "Critical and Clean Power," reports that, according to the U.S. Department of Energy, power outages due to weather have cost the United States economy between $18-billion and $33-billion annually from 2003 to 2012.
This trend has fueled a heightened interest in finding answers for critical power solutions and ClearEdge Power's PureCell systems are presented as a solution to these critical power needs…as opposed to diesel generators. The document cites seven key points of comparison between the two technologies, providing specific case examples of how PureCell systems are maintaining critical power in practical applications.
The white paper demonstrates specifically how PureCell Model 400 systems provide steady, clean and predictable power to a commercial electrical system without the burdens of noise, periodic testing or the high carbon emissions associated with conventional diesel generators. To illustrate the effectiveness of PureCell Model 400 systems, case studies are provided.
PureCell systems are the fuel cell solutions from ClearEdge Power that offer the potential to deliver 5-kilowatts to multiple megawatts of usable energy. The core technology in PureCell systems is the culmination of more than 50 years of research and experience with every major chemistry of fuel cell technology. The paper is available in its entirety at the following location: http://www.clearedgepower.com/downloads/files/whitepapers/Critical_and_Clean_Power.pdf.
About ClearEdge Power
ClearEdge Power provides clean, distributed power systems that scale from 5 kW to multiple megawatts. As the most experienced fuel cell producer, ClearEdge Power is transforming power generation with innovative solutions that help customers reduce electricity bills, improve energy efficiency and reduce carbon emissions. For more information, please visit http://www.clearedgepower.com.