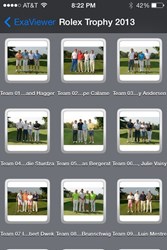 The fastest, most cost-effective, photo-sharing software for the mobile marketplace.
Portland, OR (PRWEB) February 06, 2014
eXaNetworks, Inc., a leading developer of technology solutions for the online photo-sharing infrastructure market, today announced "eXaViewer-Mobile" for devices running Apple Computer's iOS operating system. eXaViewer-Mobile app is available for free download today via Apple's App Store.
eXaViewer-Mobile makes available the company's innovative low-bandwidth, fast photo-sharing technology for smartphones and tablet devices where users often view and share images in virtual photo albums. The offering lets users of eXaNetworks free photo-sharing network share their photos with other users via an iPhone or iPad.
"The eXaViewer-Mobile app literally puts in people's hands our patent-pending, cost-effective solution for online photosharing," said Patrick Serex, president and CEO of eXaNetworks. "With this product we are demonstrating the extensibility of the fastest, most cost-effective, photo-sharing software for the mobile marketplace."
Unlike other photo-sharing technologies, eXaNetworks optimizes bandwidth transmitting small-footprint, optimized images while original pictures remain on the originator's system until a full-resolution image is needed for printing or large-format applications.
"With eXaViewer-Mobile, all the photos residing on a user's PC are available on his mobile device any time without clogging the memory of his phone or tablet," Serex added.
Though small in file size, generally less than 70Kb, eXaNetworks images maintain their viewing integrity even if displayed on a full-size monitor. When requested by an eXaViewer-Mobile user, a full-size, high-resolution image is downloaded to the iOS device (or PC) for local printing, off-network sharing or to be stored for off-line photofinishing. To ensure maximum user value, full-sized images are uploaded or downloaded only when the iOS device is connected to a Wi-Fi network thus avoiding unnecessary airtime or data usage charges.
Basic eXaViewer-Mobile operates on any iOS device running iOS 5.1 or later with additional functionality available for users of 6x and 7x.
eXaNetworks Inc., is a Portland-based private corporation. Established in 2003 by president and CEO Patrick Serex, widely acknowledged as the "inventor of e-photofinishing," and the founder and former CEO of FotoWire that merged with SilverLab and was subsequently acquired by HP.
eXaNetworks has developed a patent-pending, cost-effective solution for online photo and image sharing that is currently available for licensing or partnership.
As a result of the traffic and memory reductions, eXaNetworks allow sharing services to either reduce storage and transfer costs by up a factor of 30, or expand current network capacity by the same value.
See eXaNetworks at Macworld/iWorld, Appalooza area booth #816, March 27-29, at Moscone North in San Francisco.
For more information, or to download free eXaNetworks products, visit http://www.exanetworks.com.