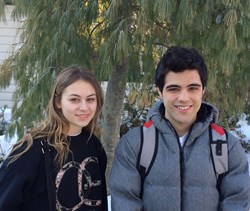 Let go of the past, Live for today and hold on to tomorrow.
Congers, NY (PRWEB) February 11, 2014
All seniors at Rockland Country Day School must complete a "WISE" project, a real-world, student-conceived, independent project that can range from writing a play to starting a business. The WISE project motivated junior, Batya Lozon, and senior, Chet Casquarelli, to create Hold-On, a program that provides funding for those struggling with addiction who cannot afford treatment.
The two students also hope to prevent addiction in teens by visiting schools and speaking to students about the dangers of drug abuse. Educating young people is the first step to prevention. Their first presentation was to students at Clarkstown South High School. Since its inception, Batya and Chet have organized events in which students, like themselves, can use their passion for art, music, or sports to help raise funds for this cause.
On Friday, February 14, 2014, at 6:00 PM, Hold-On will host a Valentine's Day Concert, at Rockland Country Day School. This event is open to the public and all proceeds will benefit Hold-On.
Advance sales tickets are $15/$20 if purchased at the door.
RSVP to: thisisholdon(at)gmail(dot)com
About Rockland Country Day School:
Rockland Country Day School brings forth the best in every student by knowing and educating each of them as individuals. The pillars of our college preparatory program are critical thinking, creative expression, and the cherishing of diversity. Our unique environment enables every child to thrive, both academically and socially. For more information please visit http://www.rocklandcds.org or call us at 845-268-6802.