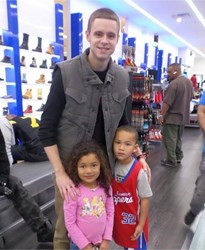 "We've built our business on basketball and street culture... it made 100 percent sense to partner up with some of the most respected streetball players in the world." -Devin Robinson, Shiekh Shoes senior footwear and apparel buyer
California (PRWEB) February 05, 2014
Urban contemporary and athletic footwear retailer Shiekh Shoes joined forces with Ball Up and Chazbo Music to host a screening of "Life on the Road," a documentary series showcasing the lives and talents of some of the top streetball players in the world, on Saturday, February 1, 2014, at the Shiekh Shoes Westfield Culver City Mall location. Surprise in-store appearances by Ball Up stars and giveaways rounded out the event.
Members of the public were invited to attend the screening Saturday, which was promoted on Instagram with a "Selfie Sweepstakes." Attendees were treated to a behind-the-scenes look of the lives of streetball players, who practice the skills-based athleticism when demonstrating their unmatched ball handling and stylish dunking, during the Ball Up tour, the largest streetball tour in the United States.
Fans were surprised by an in-store meet-and-greet with streetball star Grayson "The Professor" Boucher. One fan, Bray of Los Angeles, received a Ball Up basketball and Shiekh Shoes gift card for his participation in the "Selfie Sweepstakes."
"We've built our business on basketball and street culture, and when we had the opportunity to support Ball Up, it made 100 percent sense to partner up with some of the most respected streetball players in the world," said Devin Robinson, senior footwear and apparel buyer at Shiekh Shoes. "We're excited to help bring streetball and these talented individuals to the communities we serve."
Shiekh Shoes is a footwear and apparel retailer that prides itself in selling top brands like Nike, Adidas, Converse and Puma. Based in Ontario, Calif., Shiekh Shoes operates nearly 140 stores in California, Oregon, Nevada, Washington, Arizona, New Mexico, Illinois, Tennessee, Michigan and Texas as well as an online store at ShiekhShoes.com. Products featured range from athletic shoes and sneakers to women's dress and casual shoes and boots to shoes for the kids. Special offers include new releases and exclusives from top brands like Jordan, Nike and Reebok.