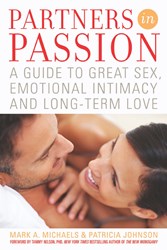 (PRWEB) February 06, 2014
Mark A. Michaels and Patricia Johnson are the authors of the recently released Partners in Passion. They were featured on the Good Men Project, explaining "How to Love Like You Did When It Was New."
The article explores the definition of love, "People generally think of love and hate as polar opposites, and this is reasonable; intuitively, the feelings seem antithetical, but in some respects they are more similar than they are different. They are both intense. They both demand substantial emotional and mental energy. Most people devote more attention to those they love and those they despise than to those about whom they feel neutral. Thus, in a very significant way, it is more accurate to say that indifference, not hate (or fear), is the opposite of love."
Along with tips on staying intimate in a long-term relationship, they finish with, "While many people think that love means your partner will anticipate your every need, this ability is really the product of repeated checking in – both verbally and non-verbally – of building a body of knowledge that's based on profound interest."
About the Authors:
A graduate of NYU and Yale, MARK A MICHAELS writes for scholarly and legal publications and his plays have been produced off-Broadway. He took his first Tantra class in 1997 and gave his first lecture on the subject two years later.
PATRICIA JOHNSON spent many years as a professional operatic soprano. In 1999, a longstanding interest in Tantra inspired her to attend a lecture by Mark Michaels, now her husband and collaborator. Since then, she and Michaels have taught and lectured throughout the world. They live in New York City.
What people are saying about Partners in Passion:
"It's not every day that I learn something new about sex."
—Ian Kerner, PhD, New York Times bestselling author of She Comes First
"Gifted teachers and writers, Mark Michaels and Patricia Johnson challenge conventional wisdom and offer bold, fresh strategies for real connection and intimacy in long-term relationships."
—Tristan Taormino, author of Opening Up
"With a thorough resource guide included, this book runs the gamut on sex education, and the authors' sex-positivity, feminism and rejection of gender stereotypes makes it a welcome addition to the genre."
—Publishers Weekly
"The most comprehensive, intelligent resource available to everyone interested in forging dynamic, joyful and sustainable intimate partnerships."
—Nan Wise, AASECT certified sex therapist