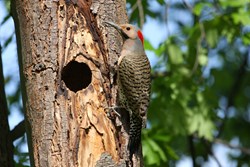 Woodpeckers peck for three reasons, and effective solutions depend on identifying the reason(s) a problem bird is pecking.
Chicago, IL (PRWEB) February 07, 2014
Found worldwide and known as woodpeckers, piculets, wrynecks, and sapsuckers, we know all know them for the headaches they can cause. Bird-X has studied the habits of these birds for 5 decades and feels confident in advising the public on how to live harmoniously with them.
Woodpeckers peck for three reasons, and effective solutions depend on identifying the reason(s) a problem bird is pecking.
The first and perhaps most irritating reason they peck (known as "drumming") is to establish territory or to attract a mate. Woodpeckers will peck anything – trees, telephone poles and the sides of houses, to make a loud noise and attract attention. The surface can therefore be any material; wood, metal, etc. While most birds may attract each other and establish territory by singing in a much more pleasing-to-humans manner, woodpeckers enjoy emulating machine guns. Contrary to popular belief, both male and female birds participate in drumming.
In this situation, your best solution is to hang shiny objects, such as Irri-Tape, directly on any areas these birds are problematically pecking. Woodpeckers have extremely acute sight and hearing, and this tape's holographic look disorients them while the sound of it moving in the wind alarms them (revenge is sweet), encouraging them to seek out less threatening areas.
If however the birds are pecking far away and irri-tape is not a feasible solution, sonic woodpecker repellers featuring naturally-recorded woodpecker distress signals and predator calls, such as the Woodpecker PRO, will very effectively frighten, confuse, and disorient woodpeckers within its range – up to one square acre. This device is fully programmable to go off whenever the woodpeckers are most likely to peck and behave as pests – usually early in the morning.
The second reason woodpeckers peck is to build a nest. This is less likely to bother humans than drumming, however if their chosen site is the side of a home, this can quickly become a serious problem. Woodpeckers are very selective in their homes, valuing a hard exterior "shell" and softer interior space to nest, making stucco and wood siding with softer interior walls very attractive options to them. If an unwelcome woodpecker appears to be pecking a round hole large enough for it to enter into a house or other structure, nesting should be suspected and actions need to be taken as soon as possible to prevent a larger problem from occurring. They work very quickly and tirelessly so sooner, the better!
The third reason woodpeckers peck is to find food! This can be somewhat obnoxious if they are feeding in trees nearby, but if a home itself has a structural insect infestation (termites or the larvae-tunnels of carpenter bees, for example) this problem can quickly get out of hand.
In cases of nesting and feeding, it is extremely helpful to encourage the birds to simply go elsewhere. In addition to using Irri-Tape and/or the Woodpecker PRO as mentioned above, putting Bird houses nearby will help provide a more attractive option than the side of one's cedar siding – just be certain to fill the interior with wood shavings, since woodpeckers enjoy removing them upon entry. Birdfeeders, including those specific to woodpeckers, will also help provide an easy (and quiet) source of food.
Bird-X, Inc. is the leading brand of humane pest bird control worldwide since 1964, and is dedicated to protecting human health, wildlife and the environment in which we all live. The Chicago-based company manufactures a complete line of unique pest control products with an unmatched focus on quality, efficacy, and customer service.