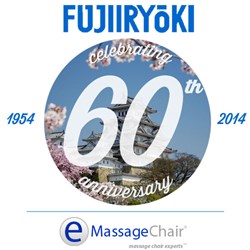 Fujiiryoki considered one of the grandfathers of massage chair technology celebrates its 60th anniversary, a huge milestone for a company that helped pave the way for other Massage Technology Pioneers like Inada, and Panasonic
Las Vegas, Nevada (PRWEB) February 06, 2014
Eastern medicine and massage therapy are an ancient tradition. Being able to use a massage chair in the comfort of one's own home seems at this point to be as common as watching TV. The brand Fujiiryoki, considered one of the grandfathers of massage chair technology, celebrates their 60th anniversary and helped build this tradition not only in Japan but around the world. This is a very exciting milestone for the Japanese based company that was originally founded in 1954 in Osaka Japan. Fujiiryoki was originally created to build health equipment, and because of their wide belief of massage therapy as medicine, it seemed only natural to create massage products. Incredibly basic in design, Fujiiryoki's first massage chair wasn't more than a wooden chair with a massage roller that travelled up the back. To use the chair, a person had to use what looked like a steering wheel, turning it up and down to move the massage rollers along the back. It's very clear that massage chairs have come a long way. Now the top selling brand in Japan, the Fujiiryoki Cyber-Relax EC-3800 massage chair is still a leader and top seller with Japanese consumers.
Fujiiryoki, being one of the original innovators, has helped pave the way for other brands like Inada and Panasonic. To look back on their 60 years as a company, it's amazing to see how far they've come. They have a wide range of accolades that help showcase their pursuit in building the best massage chair therapy. This includes building the first Wooden Massage chair in 1954, developing the first 4 ball massage chair, and receiving a patent for a massage method called "Pounding" in the US in 1965. On top of these engineering aspects, they have also received several design awards, receiving the Good Design Special Prize in 2003, and receiving a Good Design Award in 2004. Fujiiryoki also received an International Certification, called the ISO13485 which recognizes them as certified healthcare equipment.
Only a short time after Fujiiroki started, many other inventors in Japan also saw an opportunity to build health equipment that could be used in the comfort of the home. Family Inada, the creators of the widely popular Inada Sogno Dreamwave, founded their company in 1962 in Osaka Japan. Over the years, they have achieved several milestones by creating industry first technology. They were the first massage chair company to create infrared scanning technology that helps accurately read a persons posture and locate their accupoints. They have acquired other accolades like TIME magazines invention of the year, and several honors from the Consumer Electronic Show (CES) all revolving around innovation. Inada is a well-known brand and considered one of the original pioneers.
One of the most well recognized Japanese brands, Panasonic, also decided to help pioneer in-home medical equipment by designing their own massage chairs. In the late 1960's they started pioneering their own line of massage chairs. All of their designs have focused on high quality, lifelike massage techniques, and blending design features that fit easily into the home. Still to this day, they are known as one of the highest quality Electronic companies, and their Massage Chairs still are leaders in massage technology. Panasonic's latest designs, which are part of the Real Pro Ultra Series, include the EP-30007, and Panasonic EP-MA70. These massage chairs have received wide adoption for people looking for one of the best massage experiences. The Panasonic EP-30007 is the only massage chair that is endorsed by the American Chiropractic Association.
Fujiiryoki has come a long way. To help people understand how institutional massage chairs have become in the modern world we must take a look at other inventions of their day. During this same time period (1950's) people saw the creation of the first Computer (Fortran), Credit Cards, the First McDonalds Restaurant, and Color Television! These original pioneers are still innovating in massage chair technology and will continue to do so as the benefits of massage become more widely known.
The Massage Chair Experts at Emassagechair.com are happy to celebrate Fujiiryoki's 60th anniversary. This is a huge milestone for the company and massage technology as a whole. People who may have questions about Fujiiryoki massage chairs or other iconic massage chairs like Inada or Panasonic can contact Emassagechair.com directly. They can be reached by calling 888.360.9996, by emailing support(at)emassagechair(dot)com, or by chatting with them through their live chat.