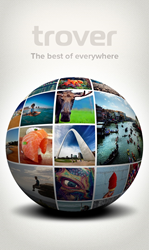 Geo-location is core to what we do, and we'll continue to invest to make it faster, easier and more accurate; helping people capture wonderful things to do around the world and blaze a path of inspiration for all.
Seattle, WA (PRWEB) February 06, 2014
Trover (http://www.trover.com), an explorer community startup serving travelers and local culture enthusiasts, announced today major upgrades to its geo-location technology for the popular iPhone Travel App. Now capable of zeroing in and recording exact photo locations, Trover offers the fastest, easiest and most accurate way to document the best things to do – whether at popular venues or more specific and remote locations – virtually anywhere and share those discoveries with a growing community of passionate explorers.
With Trover's advanced geo-location capabilities, users can more easily use their iPhone to document the details of their outings and create visually stunning photo-guides of the best places to visit, whether they're 5 miles or 5,000 miles away from home.
"Our mission at Trover is to help people share and discover the best of everywhere with photos," said Jason Karas, co-founder and CEO of Trover. "Adding location to a photo of a great restaurant or favorite shop is straightforward. With this iPhone release, we make it just as easy to share more personal and specific spots like a park bench with a great view, a hidden swimming hole, or killer ski run. Often these are the most magical and unique gems that our community wants to weave into stories. Geo-location is core to what we do, and we'll continue to invest to make it faster, easier and more accurate; helping people capture wonderful things to do around the world and blaze a path of inspiration for all."
Place-Based Storytelling and iPhoneopgraphy Bring Adventures to Life
Trover has been built from the ground up to be the best app for explorers to share photos and place-based stories. With hundreds of thousands of places and images already shared, the growing community is popular among travelers, localistas and bloggers who have sought a more place-centric way to share their explorations compared to Facebook, Instagram and Tumblr, as well as a more visual experience than TripAdvisor and Yelp. Trover's geo-location capabilities within the iPhone app make it easy to post photos and comments from an exact location, immediately see photos taken by others nearby and combine them into rich place-based stories.
Trover is also designed to spark place-based conversations and friendships based on travel preferences, past experiences and future explorations. When a photo is uploaded into Trover, it is immediately categorized by location and is socially discoverable by the entire Trover community. Explorers can visually browse through an eye-catching collection of thumbnail images featuring places to see and things to do nearby. As the user scrolls, a mileage indicator guides them to other places to visit in nearby neighborhoods, towns, and states and beyond, allowing users to explore new places and create lists of great things to do. For more complete details, users simply click on the photo to get authentic tips from explorers who have been there.
Trover's highly engaged community of explorers can also comment on photos, ask questions, add photos to lists, and connect with other like-minded travel hounds, which has helped Trover bring thousands of people together via beautiful photos of locations and destinations. Trover's search features make it easy to find and follow people with common interests from over 175 countries. Trover users can also easily share their photos across social networks, including Facebook, Twitter and Tumblr, as well as email.
About Trover
Trover is a visual guide to the best of everywhere, powered by travel geeks and culture hounds, gut-checked by peers, and lusted after by aspirational newbies. Accessible via the web and an iPhone app, it's a community for people to share their photos, get recognition for their discoveries, and find inspiration for their next jaunt. The hundreds of thousands of beautiful, annotated photos posted on Trover span 175 countries and represent experiences as varied as zip lining in Singapore, flea markets in Brooklyn and cocktails in Kyrgyzstan. Trover is a private company funded by Concur, Benchmark Capital, General Catalyst Partners, and Ignition Partners, with offices located in Seattle, WA. Trover was founded by experienced entrepreneurs, Jason Karas, CEO with a background in social and mobile technologies and Rich Barton, who founded Expedia.com and co-founded Zillow. For more information, visit http://www.trover.com or follow on Facebook.
Trover and their respective logos are trademarks, registered trademarks, or service marks of Trover. Other products and company names mentioned are the trademarks of their respective owners.