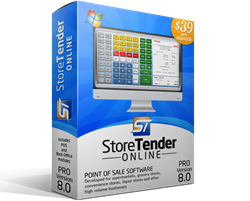 We saw the need to increase ease of use, affordability and merchant processor choice when developing this version.
Las Vegas, Nevada (PRWEB) February 07, 2014
Aloha Data Systems, Inc. has updated its StoreTender POS for supermarkets, grocery and convenience stores to version 8.0. This update is a complete re-imagining of the software, bringing cloud-hybrid data storage, affordable subscription-based pricing, a 14 day trial and a new moniker: "StoreTender Online".
Currently installed in thousands of lanes around the globe, StoreTender POS is a well-known brand created by company president Kenneth Farley. As a long-time industry leader Farley created Quicksell Retail POS, which was ultimately sold to Microsoft and is today known as Microsoft Dynamics RMS - the most successful retail POS of all time.
Specializing in grocery and convenience store POS needs, it has been tuned to function quickly and accurately in those demanding environments. The touch-screen interface is simple and powerful. Cashiers who have used an electronic cash register (ECR) in the past will recognize the familiar, time-saving keystrokes. The full-featured back office functions control customer, inventory, vendor, employee, merchandising and security data.
The unique look and feel of the software is by design. Eschewing standard Windows form-based designs that add too much clutter to the screen, StoreTender Online has large touch-screen buttons and a customer facing screen with video playback and RSS feeds that engage both employees and customers.
The most dramatic shift is pricing as a subscription service rather than an up-front purchase. For only $39 per month per PC, merchants have all the features and functionality of software that typically costs thousands of dollars. This ease of entry is what Farley believes will spur sales, "With the 14 day trial and no long term commitment, there's no risk for the merchant. None of the software out there in this price range fully meets the needs of the grocery merchant, but we do."
Key Product Features:

14 day trial;
POS will run even if internet connectivity fails, allowing sales to continue;
Process credit, debit, EBT, WIC, gift & loyalty with processor of choice;
Certified with NTEP Weights & Measures;
Dual display support with customer facing multimedia;
Frequent shopper loyalty program;
In-store charge accounts;
Base, TPR, sale & club pricing;
Promotions wizard for mix and match and other special pricing;
Time & attendance, scheduling;
Over 430 hardware peripherals supported.
Multi-store ready (coming soon: HQ version for centralized management)
System Requirements:

OS: Windows XP Professional SP3 or newer.
CPU: 1-gigahertz (GHz) 32-bit (x86) processor or 1-GHz 64-bit (x64) processor.
Ram: 512 MB (1 GB recommended).
Storage: 40 MB hard drive space available.
Pricing:

StoreTender Online Pro: $39 per month, per PC
Call-back Phone Support: $4.95 per month, per PC
Web, email support: Included
Lifetime software updates: Included
For Evaluation Copy:
Download it from http://www.storetenderonline.com/shop/trial.