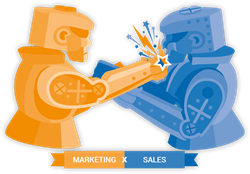 Los Angeles, CA (PRWEB) February 06, 2014
Pipelinersales Inc. announced today the release of a white paper entitled: The Vital Necessity of Aligning Sales and Marketing. In this white paper, Pipelinersales examines some best practices in this alignment. This white paper starts the next evolution of providing sales training and education to assist salespeople. The company previously released a series of e-books to assist Sales and will continue releases throughout the year. This white paper is the first in the series which is intentionally not the classical technical white paper, but rather presented in an easily approachable style meant for those in the introductory phases of their Sales and Marketing training.
The components that are detailed in this paper are the aims behind aligning Sales and Marketing, the significance of defining terms related to leads for mutual agreement, the importance of knowing the buyer, and lastly the role of CRM in this alignment. Sales and Marketing have been opposed for decades—but the two together are a powerful team that has always potentially existed. Having this important alignment adds substantial confidence to succeed in today's competitive business environment.
This paper details how this alignment is accomplished through Sales and Marketing agreement on lead terminology, effective market research and agreement upon common buyer profiles, and the establishment of methods for utilizing the majority of leads that come through the door. Finally, the paper shows how the cooperative activity of Sales and Marketing can now be properly facilitated by the deployment of an innovative CRM solution such as Pipeliner CRM.
Traditionally a CRM application is used only by Sales and Sales management to monitor sales and ensure they are staying on quota. Today forward-thinking companies utilize CRM to empower sales representatives, and beyond that enable Marketing to monitor their leads and assist in moving sales along the sales pipeline. This kind of interaction can only be possible if the CRM application is intuitive so it can be easily followed and utilized by sales and non-sales personnel alike.
Exclusive to Pipeliner CRM is an intuitive graphic representation of the sales pipeline. This enables the individual salesperson, as well as management, to be intimately involved with sales through a very unique user experience. Sales management, as well as other departments such as Marketing, can have a 360-degree view of sales, utilizing the results for management, marketing campaigns, sales analysis and financial forecasts.
With Pipeliner CRM, the inclusion of Marketing is made easier through its compatibility with robust marketing automation tools. Pipeliner has teamed up with SyncApps® by Cazoomi, Bedrock Data, and Zapier to provide these tools. Pipeliner integrates with applications such as: HubSpot, Constant Contact, MailChimp, VerticalResponse, ExactTarget, and Act-On.
The right CRM solution is factually the final piece in bringing Sales and Marketing together as a cooperative team that together consistently meets and exceeds sales quotas. To download the white paper: http://landingpage.pipelinersales.com/sales-and-marketing-alignment.
Pipeliner further offers free trialware at: http://www.pipelinersales.com/easy-crm-software-download/.
About Nikolaus Kimla
Nikolaus Kimla is the founder and managing partner of Pipelinersales, Inc. and the creator of Pipeliner. Kimla is also the initiator of the independent economic platform GO AHEAD! which is based on the principles of free market economy. He is the author of Salespeople Embracing It All, The IT Revolution and Empty Coffers--New Burdens. For more information on Nikolaus Kimla: http://www.nikolauskimla.com
About Pipelinersales Inc.
More than 19 years ago, Nikolaus Kimla set the foundation for Pipeliner's future with his company uptime IT-Technologies Inc. The creation of Pipeliner CRM initiated in 2007 and has been steadily developed through intense research. Pipeliner is next generation sales CRM software designed to empower sales teams and grow profitable customer relationships. Pipeliner CRM gives new ways to look at, and to interact with an active sales pipeline. It brings the power of sales data back to salespeople with unique methods that empower salespeople and make managing complex sales easy.
For more information on Pipeliner sales CRM software please visit: http://www.pipelinersales.com/ or read our blog at: http://blog.pipelinersales.com/. Follow our discussions on Facebook, LinkedIn, and Twitter.