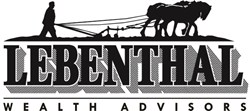 "The acquisition will will provide Lebenthal's advisors and wealth managers with some of the most sophisticated and institutional level research available in the industry."
New York, NY (PRWEB) February 06, 2014
Lebenthal Wealth Advisors (Lebenthal), a private division of Lebenthal Holdings, LLC that offers clients independent advice from the highest caliber wealth managers in the nation, announced today the acquisition of Heckman Global Advisors, Inc. (Heckman).
Founded in 1994 by Dr. Leila Heckman, Heckman is an equity research firm that specializes in global equity allocation advisory, consulting and portfolio modeling services. This acquisition enables Dr. Heckman to reunite with two industry icons, Jeffrey Lane, Chairman of the Board, Lebenthal Holdings, and Frank Campanale, Chairman and Chief Executive Officer, Lebenthal Wealth Advisors. The three worked together at Smith Barney, at the time Dr. Heckman served as Managing Director responsible for global asset allocation. While in that capacity, her team was ranked number one or number two for asset allocation by Institutional Investor's annual global poll for four consecutive years [1999-2002]. In addition, during Mr. Campanale's tenure as Chief Executive Officer of Smith Barney's Consulting Group, Dr. Heckman sat on the firm's Asset Allocation Committee.
As one of the pioneer firms in global research, Heckman focuses on a model-based approach to asset allocation across countries, regions and sectors in global equity markets and across industries in the U.S. market. Heckman's research and interactive models are utilized by some of the largest institutional investors, hedge funds, private equity and pension funds around the globe.
Reporting directly to James B. Lebenthal, CFA, Chief Investment Officer, Lebenthal Asset Management, Dr. Heckman and her long time esteemed partners Dr. Vijay Kumar Chopra and Dr. John J. Mullin will concentrate on running global equity modeling and research.
James Lebenthal explained, "The acquisition is an exciting new chapter in the history of investing at Lebenthal. Historically, Lebenthal has consistently recognized the value and importance of equity diversification and believes that most of its clients should have some exposure to International Developed and Emerging Market equities."
"The inclusion of the Heckman Group gives us this capability and more," stated Andrew Grillo, President and Chief Operating Officer, Lebenthal Wealth Advisors. "Dr. Heckman and her talented team bring the level of intellect and experience Lebenthal Wealth Advisors is known for, while expanding the firm's organic investing capabilities. We are delighted to welcome the Heckman Group to the Lebenthal Team."
According to Dr. Heckman,joining Lebenthal was a crucial strategic business decision. Lebenthal's well-respected brand,tenure, stability, reputation and commitment to provide the best, unconflicted client advice proved to be a perfect business and cultural match.
Dr. Heckman said, "The depth and breadth of our research and portfolio modeling output will provide Lebenthal's advisors and wealth managers with some of the most sophisticated and institutional level research available in the industry empowering them with leading-edge tools and strategies to effectively manage the risk of their client's portfolios.
"Joining Lebenthal it's like coming home to work with Jeff, Frank and Andy, three of the industry's leading experts in wealth and high-net-worth client management. The four of us share a common philosophy of delivering the best unconflicted advice to our clients and the vision of bringing back the fundamental fiduciary values on which our industry was built."
Prior to founding Heckman Global Advisors, Dr. Heckman led the International Equity Team at Mesirow Financial and also at Bear Stearns Asset Management. Before that, she was at Smith Barney as a Managing Director responsible for global asset allocation. During her career, she has also served as a Vice President of International Equity at AllianceBernstein, held product development and other managerial positions at Sanford Bernstein, and was Director of Credit Policy for the bankcard division of Citibank.
Dr. Heckman holds a Bachelor's degree in Mathematics from Brown University, a Master's in Operations Research from Cornell University and a Doctor of Philosophy in Operations Research from Polytechnic Institute of New York University.
About Lebenthal Wealth Advisors
As one of the premier wealth management entities, Lebenthal Wealth Advisors offers advisory services, comprehensive solutions and innovative products to companies, institutional clients and high-net-worth private clients. Further information about Lebenthal Wealth Advisors can be found at http://www.lebenthal.com
###