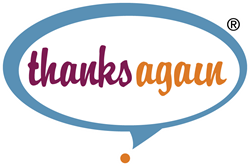 Thanks Again is excited to now offer Rapid Rewards Points to our airport clients and their loyal travelers.
Atlanta, GA (PRWEB) February 11, 2014
Thanks Again®, the country's only airport coalition loyalty program, now offers travelers the ability to earn Rapid Rewards® Points with airport parking, shopping or dining purchases nationwide. Southwest Airlines Rapid Rewards Members can now participate in the Thanks Again program to earn valuable points with qualifying airport purchases.
Consumers conveniently enroll in the program for free at http://www.thanksagain.com/southwest and earn an additional 1 point per $1 spent at a rapidly expanding number of airports, including the following twelve that have launched Thanks Again enterprise-wide (Park, Shop, Dine):
1. Albany International (ALB)
2. Hartsfield-Jackson Atlanta International (ATL)
3. Burbank Bob Hope (BUR)
4. Port Columbus International (CMH)
5. Spokane International (GEG)
6. Gerald R. Ford International-Grand Rapids (GRR)
7. Greenville-Spartanburg International (GSP)
8. Clinton National Airport-Little Rock (LIT)
9. Portland International (PDX)
10. Raleigh-Durham International (RDU)
11. Seattle-Tacoma International (SEA)
12. Tulsa International (TUL)
In addition, enrolled travelers earn 5,000 bonus points when they spend at least $1,000 or more throughout the Thanks Again Rewarding Merchant NetworkSM over each calendar quarter.
"Thanks Again is excited to now offer Rapid Rewards Points to our airport clients and their loyal travelers," explained Jay Ellis, Thanks Again SVP Global Network Development. "Our continuing goal is to enable consumers to earn more of their favorite rewards in novel ways during their travel experience. We are pleased to broaden consumer choice by now offering the travel reward affiliated with Southwest Airlines, America's largest low-fare carrier."
About Thanks Again, LLC
Thanks Again®, headquartered in Atlanta, has uniquely established itself as a global loyalty coalition brand. Its turnkey loyalty and engagement solution links members of the most popular rewards programs to airport parking, airport shopping and dining operators to stimulate commerce, loyalty and customer value. The Thanks Again Rewarding Merchant NetworkSM now spans over 160 airports and is rapidly expanding throughout North America and Latin America. Through direct partnerships with the three leading international payment card networks, Thanks Again is positioned for significant global expansion in enrolled members, loyalty reward partners and airport clients.