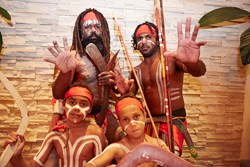 Outrigger Hotels and Resorts is well-regarded around the world for the deep respect it pays to the local cultural identities of the countries where it operates. - Grant James, General Manager
Gold Coast, Queensland, Australia (PRWEB) February 05, 2014
The rousing sounds of didgeridoo dance and songs will echo through Deja View Restaurant at Outrigger Surfers Paradise with twice-weekly performances by the Yugambeh Aboriginal Dancers.
The special performances headed by respected professional dancer and storyteller, Luther Cora of the Yugambeh language region, will celebrate the special bond the indigenous people have with the land, mountain ranges and sea.
The Yugambeh language region spans the Gold Coast to the Tweed River, Scenic Rim and Logan areas and Mr Cora has performed for over 15 years nationally and internationally. His authentic and passionate storytelling, highlighted through dance and song pays homage to one of the world's oldest cultures and he has touched audiences around the world.
Outrigger Hotels and Resorts Australia regional general manager, Grant James said he was proud to offer hotel guests an informative insight into Australia's rich, indigenous culture.
"Not only will our international guests enjoy the Yugambeh Aboriginal Dancers, I believe our local guests and diners will also appreciate these stirring performances.
"Many Australians do not generally have the chance to experience authentic indigenous performances in a hotel environment and I believe the Yugambeh Aboriginal Dancers will be an extremely popular addition to our guest offering.
"Outrigger Hotels and Resorts is well-regarded around the world for the deep respect it pays to the local cultural identities of the countries where it operates," Mr James said.
"Originating in Hawaii over 65 years ago, Outrigger Hotels and Resorts shares a close affinity with Australia's indigenous heritage with both cultures sharing strong connections to nature, land and sea."
The Yugambeh Aboriginal Dancers will perform twice weekly from January 5 running every Sunday and Tuesday evening at 6.45pm in Deja View Restaurant.
These professional performances by Mr Cora and his team are complimentary to everyone dining at Deja View with photos and interaction with the group available afterwards.
For restaurant bookings or enquiries, telephone +61 7 5579 1087, email dejaview(at)outrigger(dot)com(dot)au or visit http://www.dejaview.com.au . For accommodation bookings or enquiries, contact 1800 074 440 (within Australia) or visit http://www.outrigger.com.au.
About Outrigger Enterprises Group
Outrigger Enterprises Group is one of the largest and fastest growing privately held leisure lodging, retail and hospitality companies in the Asia-Pacific and Oceania regions and continues to expand its presence throughout the area. A family-owned company with 66 years of hospitality experience, Outrigger runs a highly successful, multi-branded portfolio of hotels, condominiums and vacation resort properties, including Outrigger® Hotels and Resorts, OHANA® Hotels and Resorts, Embassy Suites®, Holiday Inn®, Best Western®, Wyndham Vacation Ownership® and Hilton Grand VacationsTM. Currently, Outrigger operates and/or has under development 45 properties with approximately 11,000 rooms located in Hawaii; Australia; Guam; Fiji; Bali; Thailand; Mauritius, Vietnam; and Hainan Island, China. Outrigger Enterprises Group also operates and develops hotel properties and hospitality-related retail and real estate opportunities for partners in Hawaii, the Pacific and Asia. For online information, log on at http://www.outriggerenterprisesgroup.com and http://www.outrigger.com.