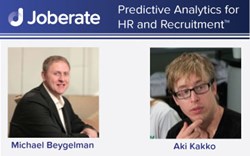 The Internet and social media have disrupted HR and recruitment, creating a need for innovative and sustainable technology solutions
Boston, MA (PRWEB) February 06, 2014
Joberate today announces that after the conclusion of the #truLondon event on February 26, 2014, the company plans to hold an analyst briefing call at 17:30 GMT to discuss the latest emerging trends and market potential of Predictive Analytics for HR and Recruitment™, the company's recent developments, technology roadmap and growth strategy. This is a must attend event for HR industry analysts and executive practitioners, and the HR technology investment community.
Recently appointed Joberate CEO Michael Beygelman and Aki Kakko, co-founder and Head of Product, will host the analyst briefing call while discussing valuable insights in front of a live audience in London.
All interested parties must register no less than 12 hours in advance by visiting http://www.joberate.com/en/analyst-call in order to participate on the call. The number of allowable call participants will be limited, so early registration is essential.
Mr. Beygelman said, "We are at the forefront of technology that is really changing the game for HR and recruitment; helping to better understand the digital footprint of current employees and how that plays into retention of high potentials, leadership development and workforce planning initiatives, and the burgeoning need to attract the right people at the right time."
Mr. Kakko added, "The Internet and social media have disrupted HR and recruitment, creating a need for innovative yet sustainable technology to help companies move beyond a traditional Big Data mapping paradigm, toward providing organizational leaders with Big Answers to critical business challenges." Kakko continued, "We are excited to discuss how we see Predictive Analytics for HR and Recruitment™ evolving, the kind of benefits this type of technology is delivering, and our own company developments including our product roadmap."
About Joberate:
Joberate provides Predictive Analytics for HR and Recruitment™ that enables companies to gain actionable insights from publicly available digital footprint of their current employees or prospective candidates. Joberate's patent-pending technology called Signal™ and Insights™ tackles the Big Data challenge by analyzing myriad Internet sources, including social media, to provide predictive analytics about each individual, or a segmented group, that is being tracked. The company's technology is available as a standalone, web-based SaaS application, as well as an API that can be integrated into leading Talent Management, ATS, CRM, and HRMS applications.
The company was founded in 2010 by a group of passionate HR professionals and recruiters who believe that the Internet and social media has forever changed how companies will connect with new talent and manage their existing workforce. Joberate was named as a finalist at UK's National Online Recruitment Awards 2013 competition in the category of Best Innovations in Online Recruitment along with prominent companies like LinkedIn, and shortlisted by SAP for the "Big Data Startup of the Year" award.