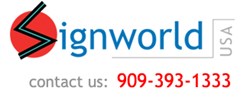 There are over thousands of trade show events held every year targeted to different niches of buyers
Chino, CA (PRWEB) February 06, 2014
Signworld America, a specialist in signs and displays, is now offering a turnaround time of two business days on trade show displays, ensuring customers are able to benefit from speed, ease, efficiency, and convenience when it comes to their trade show display requirements.
With a wide range of trade show displays on offer, the company is able to help businesses with all of their trade show needs and requirements. The provider also offers additional services such as a trade show graphic design service to turn your concept into reality. From trade show flags to banner stands and tabletop displays, Signworld America offers access to a huge range of products to help those who are preparing for trade shows, exhibits, conventions and more.
The quick turnaround time being offered by the company means that businesses will now be able to benefit from peace of mind and efficiency without having to worry about any extra fees and charges being imposed. Delivery of the necessary products can be made directly to the event if required, which means added convenience and ease for businesses and individuals who are arranging trade shows.
An official from the company said: "There are over thousands of trade show events held every year targeted to different niches of buyers. Trade shows can be quite expensive and you want to make sure you get the best bang out of your trade show event. We help to ensure that everything runs smoothly when it comes to your trade show, which means that you can look forward to peace of mind, total efficiency, speed, and value for your money."
The additional services that are provided by Signworld America, including an in-house graphic design team, help to ensure that businesses and individuals are able to get all of their trade show requirements catered for under one roof.
To find out more, please head to the website at http://www.display-wholesale.com/servlet/the-Banner-Stands-With-Print/Categories
About Signworld America
Signworld America is a specialist provider of signs and display related products, providing a wide range of products to suit the diverse needs of businesses.
Contact information
Signworld America Inc
14279 Albers Way
Chino, CA 91710
United States
Phone Number: 9093931333
Facebook : https://www.facebook.com/signworldamerica