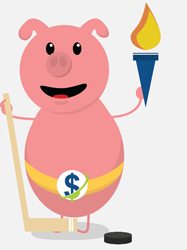 We wanted to celebrate the competitive spirit in all of us with our #MyKindaGames Contest.
Toronto, Canada (PRWEB) February 07, 2014
With the Winter Games upon us, LowestRates.ca is cheering on Team Canada with its fun and skill-testing #MyKindaGames Contest.
"Nothing captivates Canadians quite like the Winter Games, and we wanted to celebrate the competitive spirit in all of us with our #MyKindaGames Contest," said Justin Thouin, LowestRates.ca's CEO.
Playing the #MyKindaGames Contest is easy – each day throughout the Games, contestants simply log on to the contest webpage, where they make their best guesses on which medals Team Canada will win during the next day's events. The contestant with the highest number of correct medal guesses at the end of the Winter Games wins!
For every medal Team Canada takes home, the LowestRates team will add $20 to the prize pool. The winning contestant will receive their prize in cash at the end of the Winter Games.
"If Canada's 2010 medal haul is any indication, the #MyKindaGames prize could be well over $600! We all know that Canada is a Winter Games powerhouse, and this year will be no exception," said Thouin.
Even more fun, contestants will be able to view a leader-board throughout the Games to see where they stand among the competition on any given day.
Along the way, players in the #MyKindaGames Contest can check out the lowest rates on personal finance products in Canada, including 5-year fixed rate mortgages from 2.99% and variable rate mortgages as low as 2.35%. They can also take advantage of the site's redesigned credit card section, with new comparison tools and new cards, as well as compare car insurance quotes from leading insurance companies.
To enter, contestants should head to the contest webpage before Friday, February 7th, and read the full rules here.
The winner will be announced the day after the Games are finished. Canadians are encouraged to test their knowledge and their luck this winter with LowestRates.ca's #MyKindaGames Contest.
About Lowest Rates Inc.
Based in Toronto, Canada, and founded in 2012, Lowest Rates Inc., through its websites LowestRates.ca and LowestRates.com, provides a free independent online service that helps consumers compare personal financial products offered by North America's leading financial institutions. Lowest Rates Inc. helps people save time and money by allowing them to compare offers on mortgages, insurance and credit cards all in one place. Lowest Rates Inc. strives to become North America's leader in providing consumers with the necessary tools and unbiased information they need to quickly and conveniently find the right personal financial products for their unique needs.
For more information visit LowestRates.ca and stay connected by following us on:
Twitter (@lowestrates.ca)
Facebook (http://www.facebook/lowestrates)
Blog (http://www.lowestrates.ca/blog).