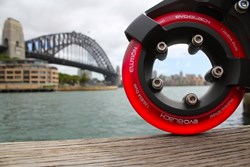 E'lution EVO Commuter Scooters are Fun, Fast, Functional, Convenient and Stylish. Who said you had to grow up and stop riding scooters?
Sydney, NSW (PRWEB) February 06, 2014
Who said you had to grow up & stop riding kick scooters?
Today's kick scooters are not just made for kids. There is an increasing demand from the adult sector for manufacturers to design and build more suitably sized and styled kick scooters.
The E'lution EVO kick scooter range is what adult riders and enthusiasts have been waiting for. Packed with the latest technical features they are fun, fast, functional, convenient & stylish.
EVO scooters are ideal for the busy city or town commuter and the free spirited recreational rider who appreciates excellence in design. Watch our fantastic promotional video.
Be one of the first people in the world to own your very own 'revolutionary designed' E'lution
commuter scooter and become part of our journey but remember E'lution's quality designed and manufactured EVO Scooters are not 'toys' so if you are serious about changing the way you move then join our 'Kickstarter' campaign today and make your pledge. Don't miss out on our fantastic 'Early Bird' prices'.
Who are E'lution Scooters?
E'lution Scooters are experienced industrial designers, problem solvers and innovators who have been developing & marketing unique products for more than three decades. They define themselves on excellence in design & technology - creating solutions that enrich the lives of their customers. With more than 30 years experience in turning insight & innovation into proven commercial & consumer products, Fernando Costa, Kevin Whitley & Woody Meyer from E'lution Scooters are no strangers to great design, technology and engineering.