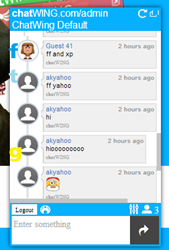 Dallas, TX (PRWEB) February 07, 2014
Expanding its reach, Chatwing developers have introduced its newest Instagram widget to shirt makers. Specifically, the embeddable widget can benefit shirt makers who are maintaining websites and are wholly committed to online marketing campaigns. The main purpose of the widget is to improve the way people communicate with each other. Listed below are the powerful advantages that can be offered by the Chatwing chat room software tool:

Full chatbox control. Registered users have penultimate control over their chatrooms. They can customize the appearance and other functions. Moreover, they can also add their friends as official chatroom moderators. This is useful for team-based websites, wherein moderators can take turns in handling visitors.
Facebook integration. Shirt makers can find larger market for their creations with the help of Chatwing widget's Facebook login system. As visitors log in with their Facebook accounts, the chatroom owner can send them special friend requests. This creates a 'snowball effect' as the chatroom becomes more popular over time.
Instagram connectivity. Chatwing chat software also utilizes Instagram login method. With this, shirt makers can widen their Instagram networks, and they can even send snapshots of their works to interested clients. Instagram users can even send special requests or suggestions—which is an apparent market boost for shirt entrepreneurs.
Email marketing advantage. Chatwing chatbox is also friendly to email marketers and entrepreneurs. This is mainly due to the Google and Yahoo login options. Shirt makers can take this opportunity, especially if they want to send out periodic newsletters to their target market.
Using the Chatwing app can bring results to different online goals. Users who want to know more about the wonders of the tool can visit Chatwing's chat app active Facebook page.
About Chatwing.com
Chatwing.com is a company that has brought innovation to the modern chat widget. Operating for more than five years now, Chatwing and its team of developers have dozens of ideas ready to be introduced to the public. The Chatwing chat app is an easy-to-use online tool that can help web users interact with each other and can also generate continuous traffic. Chatwing will always be a "freemium" application for everyone.