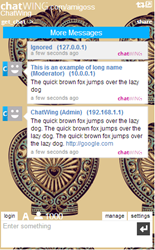 Dallas, TX (PRWEB) February 11, 2014
As part of its 2014 online expansion campaign, Chatwing Team is ready to introduce a chatroom widget for academic blogs. Recently, Chatwing chat software developers have noted that academic blogs have grown, and many people are exchanging research materials. This is beneficial, not just for students, but for lecturers who are looking for new materials from time to time. Chatwing's newest academic blog will showcase the following features:

Real-time chatting. Everything happens in real-time in the Chatwing chatroom. The developers have added a live control panel system wherein users can upload photo and video links with ease. Font styles of the messages can also be edited. This real-time communication experience saves the time of users and also opens the door to many online opportunities.
Fast social media connectivity. Visitors of the Chatwing chat software widget can use their social media accounts to log in. Currently, the platform supports Facebook, Twitter, Instagram, Tumblr, Google, and Yahoo accounts. With these login methods, academic bloggers can reach out to many discussion groups, thus expanding their knowledge. Visitors of those blogs can also do the same.
Powerful customization engine. Every user in the Chatwing database can make as many chatrooms as possible—it is basically an unlimited function. This simply means that users can create multi-pronged chat rooms software, creating waves of exposure for different websites. Chatwing chat software widget's customization engine also lets users combine colors, font styles, and designs in order to achieve the preferences they want.
Chatwing will push more strategies and enhancements for the rest of the year. This is to raise awareness regarding the premier chat widget.
About Chatwing.com
Chatwing.com is a company that has brought innovation to the modern chat widget. Operating for more than five years now, Chatwing and its team of developers have dozens of ideas ready to be introduced to the public. The Chatwing chat app is an easy-to-use online tool that can help web users interact with each other and can also generate continuous traffic. Chatwing will always be a "freemium" application for everyone.