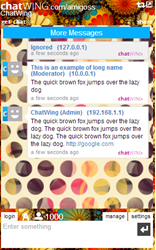 Dallas, TX (PRWEB) February 13, 2014
Chatwing Team is expanding its reach to Spanish bloggers in the cyberspace. This move has been discussed in the company's Data Center for several months already, and the developers believe that 2014 is the right year for online expansion. A Spanish chat widget will also be introduced as part of this newest expansion.
In this newest widget, Spanish bloggers can take advantage of Instagram and Tumblr login methods. Aside from that, the widget also utilizes Facebook and Twitter connectivity. This social media integration is one of the reasons why the Chatwing chat software tool became popular in different blogging circles. Spanish bloggers can rely on this integration if they want to build large subscriber groups.
Chatwing chat app developers have invested time and effort in the widget's customization process. After the quick registration, users can now start customizing the appearance of the widget. Users can combine different colors and sizes in order to achieve the style they want. Additionally, users can also set admin functions, such as word filters, moderators, average banning time for obnoxious visitors, and allowable social login methods in the website chat room app.
Spanish bloggers who are serious in attaining website exposure within short time periods can choose Chatwing's premium services. These services include secure socket layer, custom subheader, custom sidebar, more custom functions, and more chatting networks.
Chatwing Team will extend its chatroom support to Spanish blogging communities, complete with language change. Updates about this support will be presented in Chatwing's chat room software social networks.
About Chatwing.com
Chatwing.com is a company that has brought innovation to the modern chat widget. Operating for more than five years now, Chatwing and its team of developers have dozens of ideas ready to be introduced to the public. The Chatwing chat app is an easy-to-use online tool that can help web users interact with each other and can also generate continuous traffic. Chatwing will always be a "freemium" application for everyone.