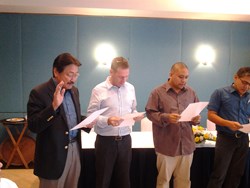 Our acceptance into DCOM as a Corporate Member is part of our continuing wish to progress our standing in the industry. - Donna Imson, QNET Chairperson
Manila (PRWEB) February 07, 2014
Prominent Asian direct selling company, QNET recently gained yet another accolade when its subsidiary company based here, QNET Philippines was admitted as a new member of the Digital Commerce Association (DCOM) of the Philippines.
DCOM is a non-profit organisation, founded by key players in the Philippine eCommerce industry. The organisation promotes and advocates digital commerce in the country by establishing standards and best practices for a friendly and secure digital commerce industry, teaching Filipino Merchants how to properly leverage on digital commerce, making the Philippine digital commerce industry attractive for trade and investment, and partnering with the government in shaping sound policies on digital commerce.
"Our acceptance into DCOM as a Corporate Member is part of our continuing wish to progress our standing in the industry. At this juncture, I wish to record my special thanks to the DCOM Membership Committee and everyone involved for all their hard work that went into making this possible," said QNET Chairperson, Ms. Donna Imson.
QNET Philippines was inducted into the organisation as a new member at DCOM's first general membership meeting for 2014 held last month. QNET Philippines was represented by its Chairman, General Dioscoro L Yoro, Jr who took the membership oath along with the representatives of the other new member companies.
DCOM is supported by the Department of Trade and Industry which is emphasizing on the importance of eCommerce in pushing for the growth of the retail industry in the Philippines.
QNET is also a member of the Direct Selling Associations (DSA) in the Philippines, Singapore and Malaysia. The DSAs are all deeply committed to ethical marketing, professional sales practices and self-regulation amongst the network and member companies.
Besides that, QNET's other industry memberships include Malaysian Direct Distributor Association (MDDA), Business Ethics Institute of Malaysia (BEIM), Hong Kong Health Food Association (HKHFA) and Health Supplements Industry Association of Singapore (HSIAS).