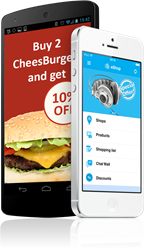 Boston, Massachusetts (PRWEB) February 07, 2014
Microsoft's Convergence 2014 – a meeting point of the Dynamics community – is soon about to take place in Atlanta, Georgia. As mobility is expected to be a hot topic this year, Resco – the maker of the Mobile client for Dynamics CRM – informs today about its plans for the conference.
"We will, of course, exhibit at Convergence – we wouldn't want it any other way. But this year, we've also prepared some additional goodies that will surely draw some interest." Ivan Stano, Resco's Director for North America, discloses.
Stano revealed that Resco plans to introduce its new product – Mobile Apps for Dynamics CRM – at the event. Contrary to Mobile CRM that is used by employees, Mobile Apps is intended for customers. Companies will be able to create their own app and present their products, locations and other offers to their customers.
"While some might not need a Mobile CRM for their employees, they can profit from a branded consumer app. It's a great new way of engaging people & increasing loyalty and sales." Radomir Vozar, Resco's CEO, proclaims.
Another addition to the conference itself is Resco's pre-event Mobile CRM Workshop held on March 3rd. People who registered will learn to customize the app the way they want within just one day. As per the latest update, the workshop is almost sold out, but there are still a few seats left for a last-minute registration.
Be it Mobile CRM for employees or Mobile App for customers, Convergence 2014 attendees who shop around for mobile solutions for Dynamics CRM can gather all the info they need in one place. Resco vowed to make their purchasing decision on mobility easier by giving them live demonstrations, personal consulting and references of already implemented projects.
To meet with Resco's team in person, visit Booth #1741 in Expo Hall at Convergence 2014. Registration for Convergence 2014 is still open for those interested in attending.
About Resco Mobile CRM
Resco Mobile CRM gives users around-the-clock access to their Dynamics CRM. The app works seamlessly on all iOS, Android and Windows platforms and comes with a full offline mode, interactive maps, support of custom entities & many more benefits that make it the product people love to use.
For more information visit: http://www.resco.net/mobilecrm/.
About Resco
Resco, founded in 1999, is a mobile software solutions developer and the creator of the market favorite Mobile CRM for Dynamics CRM. The team of Resco professionals passes on its knowledge of mobile device technology by designing products for corporate customers, developers, integrators and end users. The purpose? Optimizing work and improving productivity.
For more information visit: http://www.resco.net.