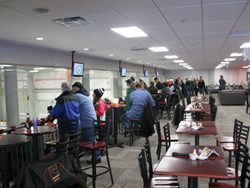 North Battleford, Saskatchewan (PRWEB) February 06, 2014
Restaurant Furniture Canada recently proved why it's Canada's leading manufacturer and distributor by teaming up with Battleford Curling Club in Saskatchewan by providing new tables and bar stools to the Twin Rivers Curling Club.
Curling is a sport in which players slide stones across a sheet of ice towards a target area which is segmented into four concentric rings. It is related to bowls, boule and shuffleboard. Two teams, each of four players, take turns sliding heavy, polished granite stones, also called "rocks," across the ice curling sheet towards the house, a circular target marked on the ice. It is a popular sport in Canada and many other countries. It has long been a sport in the Winter Olympic Games and will be featured in the 2014 Olympics in Sochi Russia.
The Twin Rivers Curling Club is a sports venue and stadium in North Battleford, Saskatchewan. It is supported by the Canadian Curling Association and holds regular season curling matches. It has also held bonspiel tournaments and Canadian Curling championship events. The Twin Rivers Curling Club recently underwent a major renovation which included updating the seating for the club's lounge.
The club manager heard about Restaurant Furniture Canada's reputation for stylish, well-built commercial furniture and excellent customer service. He opted to go with Restaurant Furniture Canada's Ladder Back Metal Bar Stools. He chose the black frame with the mahogany finish for the wood back and seat. The frame also comes in gold, copper vein, gold vein and silver vein. The solid wood saddle seat also comes in dark mahogany, walnut, cherry and mahogany finishes. Customers can also choose an American made padded seat made of vinyl or fabric.
"The Ladder Back Metal Bar Stool was a great fit for the Twin Rivers Curling Club," said Chris, salesperson for Restaurant Furniture Canada. It's the most popular bar stool in North America and is great for venues that want the sturdiness and durability of metal but also the beauty of wood. These chairs are fashionable enough to fit in any dining establishment and are strong enough for high traffic use in places such as the Twin Rivers Curling Club. They are currently on sale Restaurant Furniture Canada's website for only $65.
For the tables he chose solid wood table tops in mahogany finish with bullnose edge. The solid wood table tops are proudly made in the USA of solid wood responsibly harvested in the Midwest. They come in 5 standard finishes and a custom finish can be made for an additional cost. They came in square, round or rectangular shapes in a wide variety of sizes. Prices start at only $101.
To browse Restaurant Furniture Canada's full selection of chairs, bar stools, table tops, table bases, booths and patio furniture visit http://www.restaurant-furniture.ca/ or talk to a customer service representative at (888) 998-4222 for answers to all your questions on restaurant furniture.
The Twin Rivers Curling Club is located at #2 623 Carlton Trail in North Battleford, Saskatchewan. They can be contacted at (306) 937-2431.