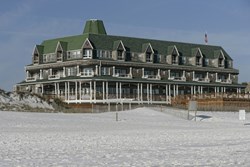 We try to make each guest experience as high-end and unique as possible.
Destin, FL (PRWEB) February 06, 2014
Henderson Park Inn proudly announces the Destin hotel has been named a top romantic hotel in America. As a Traveler's Choice Romance Winner, Henderson Park Inn's luxurious boutique beachfront accommodations have been named as one of the most romantic places to stay in the country and the top hotel in Destin.
"We are extremely excited to be named as one of the most romantic places to stay in America," said Ryan Olin, innkeeper at Henderson Park Inn. "As an all-inclusive, adults only beachfront hotel, we try to make each guest experience as high-end and unique as possible."
Henderson Park Inn is no stranger to awards and accolades. Named the second most romantic hotel or resort in the world by About.com in 2011, the hotel and restaurant has been top rated for years. The on-site restaurant, Beach Walk Cafe at Henderson Park Inn, has been voted among the 100 Most Romantic Restaurants by OpenTable diners.
The hotel says this unique experience is what keeps their guests coming back year after year. The staff practices a proactive approach to customer service, providing their guests with all they need without asking, including complimentary beach chairs and umbrellas.
For couples who want to experience a one-of-a-kind vacation, Henderson Park Inn creates memorable beach getaways with all-inclusive amenities ranging from beach services to turndown service. The Destin hotel's private beach and excellent location offer guests the option of a secluded beach getaway and an exciting city experience in one.
Voted the most romantic hotel in North America, Henderson Park Inn opened its doors in 2007 as an industry leader in high quality and exceptional customer service. The all-inclusive, adult only resort is a recipient of both the 2013 Certificate of Excellence and the Travelers' Choice Award from TripAdvisor. Visitors to the bed and breakfast in Destin will be excited for the breathtaking ocean views on Henderson Park Inn's private beach, as well as the countless complimentary amenities including a gourmet breakfast and picnic lunch. Offering 24-hour check-in, Henderson Park Inn is located at 2700 Scenic Highway 98, Destin, FL. For additional information about Henderson Park Inn, visit their website at http://www.hendersonparkinn.com or give them a call at 866-398-4432.