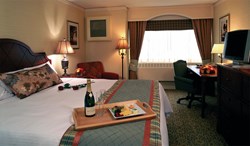 (PRWEB) February 07, 2014
Valentine's Day is the perfect time to shower that special someone with love or spend quality time with family and friends. When it comes to making plans for this Valentine's Day weekend, Westchester County in the Hudson Valley region has a lineup of romantic offers at luxurious hotels, family-friendly attractions and exciting events for everyone.
"Westchester County has great activities taking place throughout the month of February," said County Executive Robert P. Astorino. "With Valentine's Day around the corner, many of our restaurants and hotels have created special offers and packages to make for a memorable celebration. We also have a number of family-friendly events that every member of the family will enjoy this winter season."
The following are packages, events and attractions featured this February:
Valentine's Day Delights
Relax on Feb. 14 with a spouse, family member, or other loved one at the luxurious Castle Hotel & Spa in Tarrytown. Celebrate St. Valentine and choose between three spa treatment packages at its onsite THANN Sanctuary Spa. Book reservations for luxurious guest room accommodations, or enjoy delicious cuisine in the stunning dining room at Equus restaurant that features unique and creative Auberge-style natural French delicacies. Choose from the following options:
•The Valentine's Day Package includes overnight accommodations in a deluxe room with a bouquet of red roses. A pre-fixe four-course gourmet dinner for two at Equus restaurant is included as well as breakfast for two the following morning. This package is offered at $900.
•The Deluxe Valentine's Day Package offers all of the above as well as your choice of a 60-minute THANN aroma-lymphatic massage, a 60-minute Swedish massage, or a 70-minute ultimate detoxifying facial. This package is available for $1,175.
•The Royal Treatment Package features a two-night stay in a deluxe guest room with a bouquet of roses, a special pre-fixe gourmet dinner awaits in Equus restaurant and a $100 voucher for cocktails is offered for the General's Bar or Equus restaurant. Also, enjoy two massages (the 60-minute THANN aroma-lymphatic massage and the 60-minute Swedish massage) as well as a welcome amenity with champagne and strawberries. This package is offered at $1,900.
Other spa treatment packages for Valentine's Day weekend include the Jasmine Blossom Therapy Package equipped with calming jasmine products and tasty treats offered at $735 per couple or the Valentine's Day Tasting Dinner at Equus restaurant offered at $175 per person. Seating is available for dinner from 5:30 to 10:00 p.m. on Friday, Feb. 14 and Saturday Feb. 15.
The Castle Hotel & Spa is located at 400 Benedict Avenue in Tarrytown. For additional information and details about these and other packages visit http://www.castlehotelandspa.com/.
Nearby, The Ritz-Carlton Spa, Westchester in White Plains is offering a special Valentine's Day attraction that will be sure to rejuvenate. Receive a 60-minute signature Ritz-Carlton massage or signature facial and blow out in the salon for $200. This offer is available Tuesdays, Wednesdays and Thursdays throughout February. The Ritz-Carlton, Westchester is located at 3 Renaissance Square in White Plains. For more information call (914) 946-5500 or visit http://www.ritzcarlton.com/en/Properties/Westchester/Spa/Default.htm.
Looking for a different option? The DoubleTree by Hilton in Tarrytown is offering a three-course menu that includes choices of sweet potato and lobster chowder, seared Hudson Valley duck breast, and warm chocolate lava cake for just $45 per person. Reservations are suggested and are available starting Feb. 14 through Feb. 16. Want to make it a weekend getaway? A rate of $209 per couple includes guest room accommodations for one night and dinner. The DoubleTree by Hilton is located at 455 South Broadway in Tarrytown. To make reservations call (914) 524-6410.
Or, give the gift of romance with views of the beautiful Hudson River at Tarrytown House Estate on the Hudson. The Estate is offering three affection-filled packages that will be sure to win over that significant other:
•The Hudson Valley Romance Getaway Package offers accommodations at the Winter Palace with sparkling wine, chocolate strawberries, and a romantic breakfast, starting at $219.
•The Valentine's Dinner Package offers a four-course dinner package at the Estate's restaurant, Cellar 49. This also includes overnight accommodations with a late checkout time of 1 p.m. This package starts at $399.
•The Bed & Breakfast Package offers a deluxe room for two with a fully stocked American buffet breakfast (omelet station included) at $199.
Tarrytown House Estate on the Hudson is located at 49 E Sunnyside Lane in Tarrytown. For more information call (914) 591-8200 or visit http://www.tarrytownhouseestate.com.
February Festivities
Looking for family-fun activities throughout the month of February? There's plenty to do in Westchester.
For craft beer lovers and foodies, the Big Brew NY Beer Festival will have its inaugural launch on Saturday, Feb. 8 from 5-8:30 p.m. (4-5 p.m. for VIP ticketholders) at the Westchester County Center in White Plains. Big Brew NY will feature a diverse list of local, national and international breweries and styles. VIP ticket holders will enjoy a mouth-watering, beer-infused buffet with menu designed by Chef Anthony Goncalves of 42 The Restaurant, a VIP sponsor and official after party host. The VIP menu includes delicious foods such as beer-battered fish with ranch chips and beer-braised lamb arancini (Parmesan and preserved lemon). Attendees will also have the opportunity to discuss beer and food pairings with award-winning writer, speaker and radio personality John Holl, author of The American Craft Beer Cookbook. General admission is $50/$60 at the door, VIP is $80/$90 at the door and for a designated driver $10/$15 at the door. Tickets can be purchased online at http://www.bigbrewny.com. All tickets include unlimited tastings and a souvenir tasting glass. The Westchester County Center is located at 198 Central Avenue in White Plains.
Teatown Lake Reservation is hosting its 10th Annual Hudson River Eaglefest on Saturday, Feb. 8 from 9 a.m. - 4 p.m. at Croton Point Park located on 1A Croton Point Avenue, Croton-on-Hudson. Did you know over 150 bald eagles spend the winter along Hudson Valley Waterways? Come celebrate our national symbol with eagle shows, bird walks, and new prime eagle viewing sites hosted by environmental organizations all along the Hudson River. Experts and detailed keepsake maps will be available at each site to guide you throughout the festivities. There will be a Metro North Eagle train, bus tours, children's activities, educational shows and more. This year, Teatown Lake Reservation, a nature preserve and education center, will sell general admission tickets, which will grant access to all of the day's activities. Presale tickets are $10 for adults and $8 for children ages 5-13. Tickets on the day of the event are $15 for adults and $10 for children. For more information on Eaglefest call (914) 762-2912 ext. 110 or visit http://www.teatown.org/teatown-events/eaglefest.html.
The Royal Hanneford Circus is back at the Westchester County Center. Watch professionals strut across the tight rope, perform with tigers and jump through flaming hoops on President's Day weekend, Feb. 15-17. There will be three show times each day at The Westchester County Center, located on 198 Central Avenue in White Plains: 10 a.m., 2 p.m., and 6 p.m. Purchase your tickets in person at the box office or online at Ticketmaster.com. Tickets start at $25. For more information visit http://www.countycenter.biz/event_CIRCUS.html.
Westchester's Ridge Hill in Yonkers is hosting its first-ever Ridge Hill Restaurant Week, beginning Sunday, Feb. 23 through Thursday, March 6. The week will be filled with savory flavors from Ridge Hill's top dining establishments including Bonefish Grill, Brio Tuscan Grille, Frannie's Goodie Shop, Havana Central, Texas de Brazil and more. Don't miss out on these incredible deals. Ridge Hill is located at 1 Ridge Hill Boulevard in Yonkers. To learn more about Ridge Hill Restaurant Week, visit http://www.westchestersridgehill.com or call (914) 207-2900.
Hotel Buzz
The Holiday Inn Express has just moved into Peekskill. The hotel's central location is minutes away from leading area businesses and attractions making it a great spot to stay when visiting the Hudson Valley. The hotel has wireless internet available in all standard rooms, executive rooms, suites, and public areas. It's a convenient, affordable place to stay in Westchester equipped with an exercise facility, heated pool and business center. The Holiday Inn Express is located at 2 Joan Walsh Boulevard in Peekskill. For more information on booking, e-mail sales manager Andrew Leinbach at Andrew.Leinbach(at)cwhotels(dot)com or call (914) 743-5700.
In addition, The DoubleTree by Hilton Tarrytown has reached a new level to accommodate their hard working business travelers. The hotel now has free, high-speed wireless internet access in all of its 247 guest rooms. The DoubleTree by Hilton is located at 455 S. Broadway in Tarrytown. Call for reservations at (914) 631-5700.
For more on the latest events and happenings in Westchester visit http://www.visitwestchesterny.com, like us on Facebook (facebook.com/westchestercountytourism), follow us on Twitter @westchestertour or call 1-800-833-9282.
To view the Westchester County Destination Guide, please visit http://digital-editions.mediatwo.com/westchester-destination.
About Westchester County Tourism & Film
Tourism & Film is Westchester County's official destination marketing organization. Its mission is to generate economic benefits by enhancing the image and promoting Westchester County as a premier business and leisure destination in the Hudson Valley region. The Tourism & Film Office in Westchester County is a Division within the County Executive's Office of Economic Development.
Additional news available at http://www.westchestergov.com
Connect with us on Facebook: http://www.facebook.com/WestchesterGov
Follow us on Twitter: @WestchesterGov